People Named Marcus Love The New Winter Storm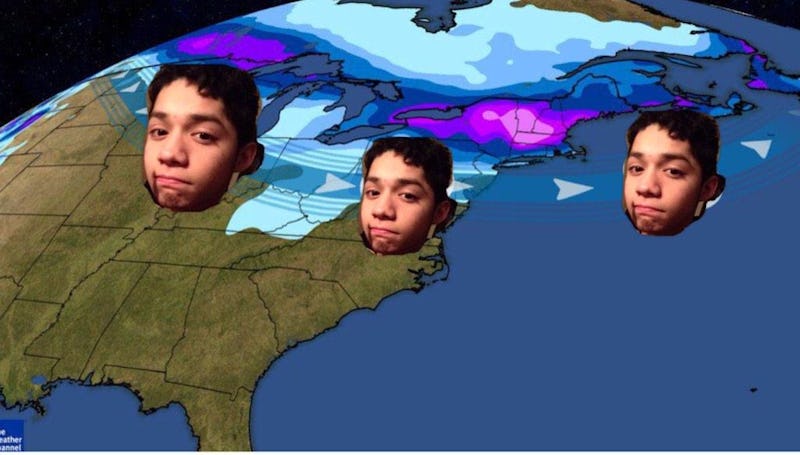 Not long after it prepared for the fallout from Winter Storm Juno, the Northeast faces another blizzard — this time Winter Storm Marcus. The area is looking at another big dumping of snow, with some locations possibly getting up to two feet on top of everything that's accumulated over the past couple of months. Boston has set a record for the snowiest seven-day period in its history, with more than 40 inches, and Worcester, Massachusetts has gotten more than 55 inches of snowfall in two weeks. An extra 10 to 20 inches could be massive in areas like those — in fact, Boston and other Northeast regions have already canceled school on both Monday and Tuesday.
Needless to say, not too many people are excited at the prospect of more snow, prolonging a winter that already seems like it's gone on for way too long, at least in the Northeast. (For what it's worth, where I live in the Midwest hasn't seen much snow. It was 66 degrees and sunny in St. Louis on Sunday. Sorry, kinda.) But others are pretty pumped about Winter Storm Marcus — mostly people who are actually named Marcus. Several Marcuses took to social media once The Weather Channel announced the blizzard's name to express their pride in having a storm named just for them.
This Marcus even went as far as to Photoshop his own face onto the weather flow, showing how he's really taking the Northeast by storm. (Get it?)
And this Marcus figured, "Why not use this for a little self promotion for my new album?"
It wouldn't be a good blizzard designation without a dog named Marcus, too.
And some people were just so close but yet so far. Sorry, Mark.
We don't yet know how this blizzard will affect the area, considering that Winter Storm Juno was predicted to be the biggest Snowmageddon of all Snowmageddons, but Winter Storm Marcus is bound to at least make a few people out there pretty happy they're finally getting the recognition they've always wanted.
Image: Marcusstrctrs/Twitter (1)