Pharrell's Hat Is Sad & Alone Tonight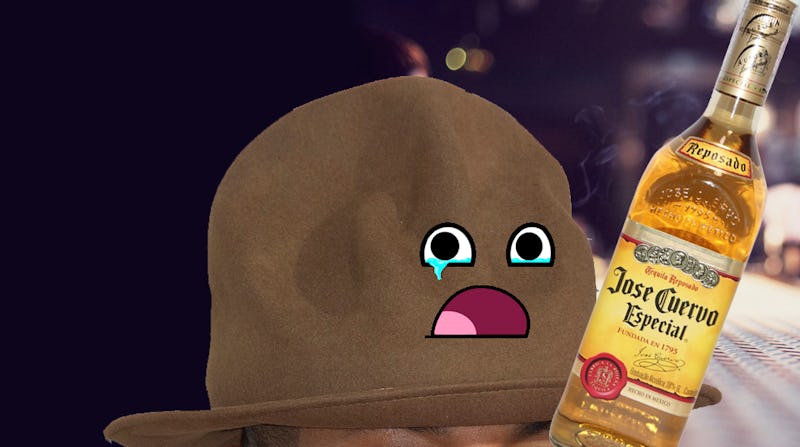 Hi. My name is Pharrell's Hat From the 2014 Grammys. Nice to meet you. I wanted to write this post and let you guys know that tonight is usually one of my most favorite nights of the year. The Grammy Awards are where it's at. A night filled with music and wonder and pretty dresses. But what I like most about it is that I usually get to spend it with my bestest friend, Pharrell Williams. He put me on his head in 2014 and the crowd went wild. Cameras couldn't stop flashing. That Internet Twitter thing kept talking about us and someone even registered my Twitter username right from under me. But if you saw Pharrell on the red carpet Sunday night, you may have notice something: I am NOT on his head.
I've had many cries about it earlier today. I ate six boxes of Girl Scout Cookies. I even went to Arby's (their logo comforts me, OK?) for curly fries. To think that one year ago, Pharrell cemented our friendship at the Grammys, where we strutted the red carpet and became a pop culture sensation. People said someone like me — a pregnant-looking brown Vivienne Westwood hat — couldn't make it in this town, but that night I proved everyone wrong.
From that moment on, Pharrell and I were in separable. The press and paparazzi couldn't stop following us. We met Robin Williams (rest in peace).
And then he sold me to Arby's for $44,000. I never thought you could put a price on friendship, but apparently you can. He said it would be OK, though — Arby's would take good care of me, with curly fries and sandwiches (truth). In the summer, I got to take a trip to Washington, D.C.'s awesome Newseum, where folks came from all over the world to see me.
And tonight? I'm home alone, stuck in the Grammy Museum in Los Angeles. I have a mountain of snacks I bought at Downtown LA 7/11 and Pharrell is wearing stupid shorts this year. SHORTS. I've been forsaken for a pair of shorts with stripes. Life is not fair.
Time for some more Cuervo.
I miss you, Pharrell. I hope you miss me, too.
Image: Kadeen Griffiths/Bustle