'The Jinx' On HBO Is Absolutely Insane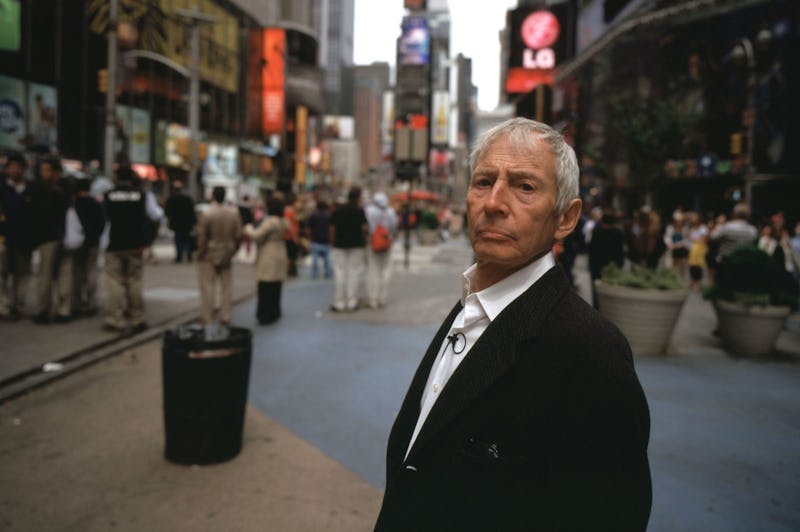 If you've been following the lead up to HBO's latest documentary miniseries, you know that The Jinx is already being compared to Serial , Sarah Koenig's podcast that got a nation buzzing about a years-old murder case from Baltimore. And it's understandable. Much like Serial, HBO's The Jinx digs up an old murder mystery with the help of the man at its center and attempts to get at the truth. Only in this case, the man at the center of the mystery, Robert Durst, isn't in jail like Serial subject Adnan Syed. Still, throughout the first episodes, numerous interview subjects insist that the murders in question were Durst's doing, including the murder that starts the series: that of a man in Galveston, Tex. who was found chopped up, headless, and floating in the ocean.
The victim is revealed to be Durst's neighbor in Galveston, a place where New York real estate heir Durst lived in an apartment under a fake name (and as a woman). The talking head interviews from the detectives who took care of the case seem to allege that Durst was in fact the person responsible for the neighbor's death and dismemberment, yet at the end of the episode, Durst walks into frame. He lives in New York City and has agreed to the interview that will act as a thread of this documentary miniseries. He wants to clear his name and let people hear his side of this years old mystery (I can sense you lining up the Serial comparisons now). There is something just a little strange about all of this though: The Jinx all but declares Durst guilty of the Galveston man's murder, yet he's not in jail, begging the question of how Durst got acquitted of this murder that seems to have plenty of evidence stacked against him.
According to CNN, Durst was acquitted of the murder of his neighbor Morris Black because the jury agreed that his testimony and the evidence were consistent with his self-defense claim. The article continues:
Durst testified he accidentally shot Black, then panicked and decided to cut up the body, dispose of it and leave Galveston.
"I could understand Durst's panic," said juror Joanne Gongora. "I can understand his drug-induced state. I can understand his life."
Lovell, when asked if he was certain Durst was not guilty, said, "With what was presented to me, absolutely, positively 100 percent."
But there's more to Durst's history, as the end of the episode teases: He had a very troubling childhood, his wife Kathy Durst disappeared mysteriously in the '80s, and as we will see next week, many of Kathy's friends still blame Durst for her total disappearance.
The Jinx has opened up a plethora of questions, but ultimately (and much like Serial before it), the real mystery is the man at the center of it all.
Image: Courtesy of HBO