Designer Embroiders Images From Her Travels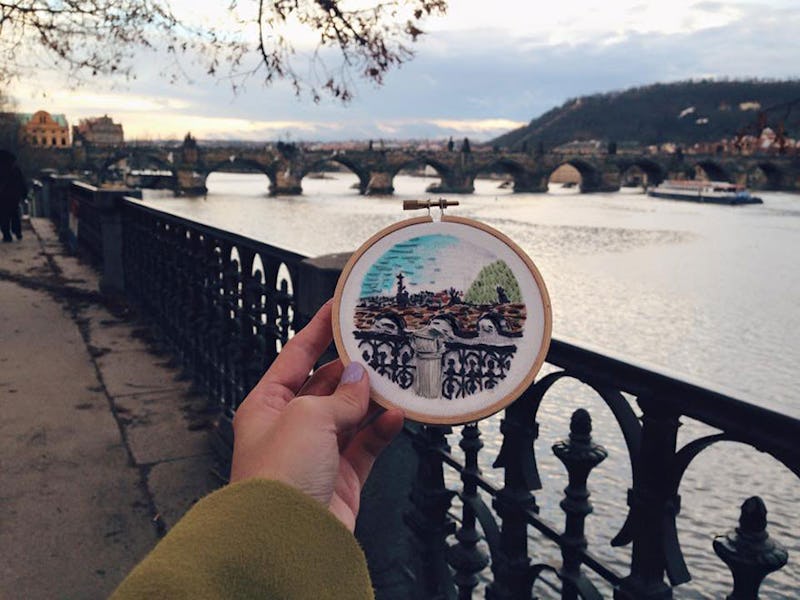 I love to travel, but I sometimes struggle to find souvenirs that are meaningful to me. Postcards end up piled in drawers, knick-knacks only clutter up my tiny apartment, and my endless grainy cell-phone photos tend to stay hidden away on my phone. Those of you in the same boat will be impressed by Singapore-based designer Teresa Lim, who has found a creative—and gorgeous—alternative to traditional travel memorabilia. Instead of snapping picture after picture, Lim embroiders a single scene from each trip onto fabric stretched across an embroidery hoop. Lim says that the project, which she calls "Sew Wanderlust", originated from a desire to bring home keepsakes that would be more meaningful than conventional photos. She recounts:
I started the project late 2014 after I realised that with today's state of the art technology, taking pictures becomes so easy. I wanted something more from my travels, to be able to take back a part of that place with me. When I'm done with a piece, I actually feel like I KNOW that place, and that gives me a huge sense of satisfaction that I think just taking a photo wouldn't give.
The pieces are little—not much larger than Lim's palm—and surprisingly detailed. Each one perfectly captures a single evocative scene, from London's Big Ben (with the London Eye peeking out from the background), to the haunting Memorial to the Murdered Jews of Europe in Berlin, to the hustle and bustle of Singapore's Chinatown. Which one is your favorite?
London
Singapore, China Town
Prague
Amsterdam
Hanoi
Vietnam, Ha Long Bay
Perth
Berlin, Memorial to the Murdered Jews of Europe
Tokyo
Here you can see how all of these pieces would look together on a wall. So, so pretty.
Head on over to Lim's website to check out more of her beautiful work.
Image: Teresa Lim/Instagram