Elegant, Completely Awesome 'Star Wars' Wedding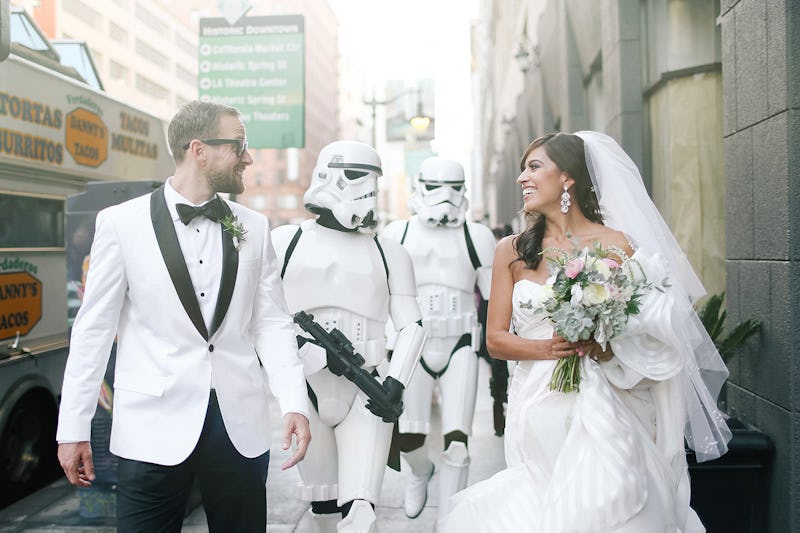 Full disclosure: I am a full-on Star Wars nerd. I had a Star Wars-themed bedroom as an adolescent, I've read almost all of the Star Wars Extended Universe books, and I watched the entire trilogy at least once a month from the ages of 12 to 14. So it'll be no surprise to anyone that I am completely—nay, obsessively—on board with this gorgeous Star Wars wedding. Jennifer and Joshua, a sci-fi loving couple based in L.A., created a chic, classy, and gloriously Star Wars-y event to celebrate their September 2014 nuptials. As Jennifer told Green Wedding Shoes, the couple strived to create a wedding that would reflect their personalities:
From the moment we started planning, my now-husband and I decided that we wanted our wedding to be intimate, fun, and a reflection of who we are as a couple. In terms of the details and decor, we tried to create an atmosphere that was whimsical, romantic, and modern. Since I'm a lifelong Star Wars fan, I knew I had to incorporate my fandom into some of the wedding details. The cherry on top for both of us was getting Stormtroopers from the 501st Legion to be a part of the wedding. It was an absolute dream come true!
Theme weddings can easily tip into the realm of the cartoonish—not that there's anything wrong with that (did I mention that my bedroom included Star Wars bedding? And shelves and shelves of Star Wars Micro Machines?)—but it's nice to see that it's possible to go for a theme and still maintain a sense of elegance. Subtle geeky touches to the wedding include Death Star coasters, a Star Wars themed seating arrangement, and a surprisingly feminine and pretty stormtrooper belt for the bride. The couple wasn't afraid to go for some wonderfully unsubtle touches here and there: once the sun wend down, guests got to dance the night away with light-up lightsabers. How ridiculously fun is that?
Congrats to Jennifer and Joshua!
These great photos are by Cacá Santoro. Head over to her website to see more pics from the wedding.
Images Courtesy Of: Cacá Santoro Photography