12 Same-Sex Couples Who Just Married In Alabama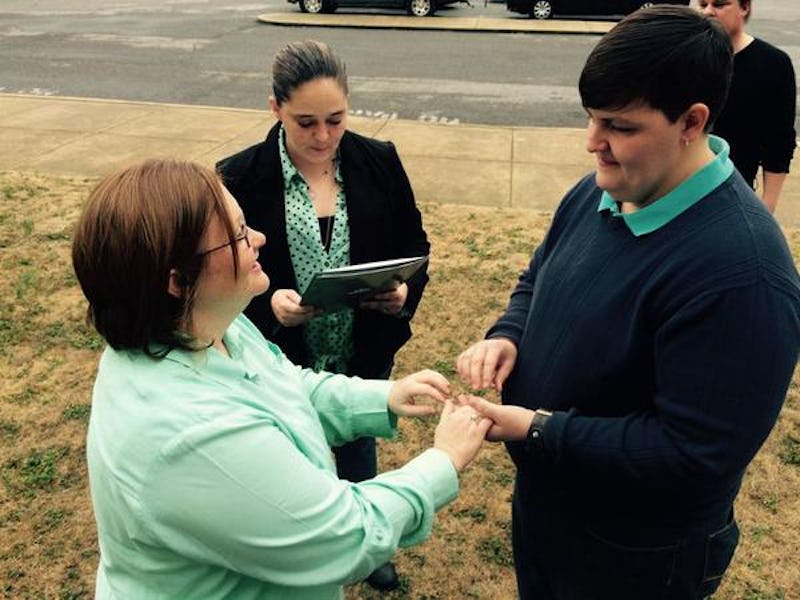 After some major hurdles, same-sex couples are now able to marry in the Heart of Dixie. On Monday, the U.S. Supreme Court cleared the way for gay couples to wed in Alabama, making the state the 37th in the U.S. to legalize same-sex marriage. As of Monday morning, at least three counties in Alabama had started issuing marriage licenses, spurring couples to flock to courthouses to obtain their marriage licenses. It's a heartwarming scene in the the state right now; couple after couple are finally able to make their love official.
The history-making decision didn't come unchallenged. On Sunday night, Alabama Supreme Court judge Chief Justice Roy S. Moore tried to block same-sex marriage from taking into effect the following day, going against U.S. District Judge Callie Granade's January ruling that struck down Alabama's same-sex marriage ban.
On Jan. 23, Judge Granade ruled that Alabama's gay marriage ban was unconstitutional, arguing that the ban does not improve ties between children and their biological parents and in fact harms the children of same-sex parents. Judge Granade's decision was scheduled to take effect on the morning of Feb. 9, but just hours prior, Chief Justice Moore ordered Alabama's probate judges not to issue marriage licenses to same-sex couples on Monday morning. However, Chief Justice Moore's 11th-hour act of defiance failed as the U.S. Supreme Court ruled 7-2 against him.
On Monday morning, multiple Alabama cities, including the state's largest and most populous, Birmingham, started issuing licenses to couples who have been waiting years to tie the knot. Among them are these 12 happy couples who are finally able to legally recognize their union.
1.
2.
3.
4.
5.
6.
7.
8.
9.
10.
11.
12.