13 Last-Minute Valentine's Day Date Ideas For Couples Who Love To Procrastinate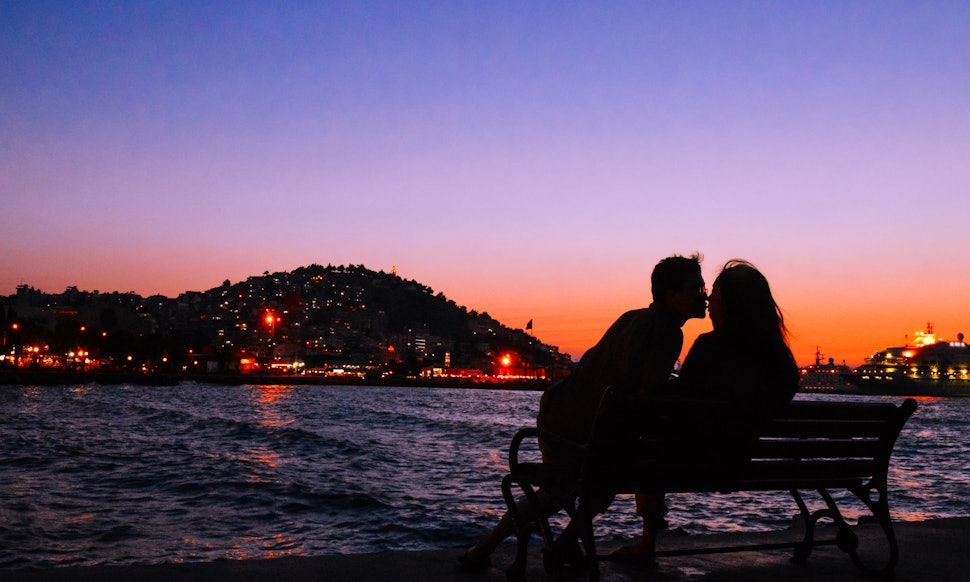 Valentine's Day is this week, which means millions of people across the country are probably scrambling to plan a last-minute Valentine's Day date. Whether it's because they've been too busy to think about it or dread the holiday altogether, some couples simply forget to make plans for February 14. And while that may fly in certain relationships, others demand all the red-colored trappings of a romantic date.
Unfortunately when you wait until the last minute, you're left with super slim pickings across the board. The cards will be the 99 cent variety that lack sweet sentiments. The flowers will be a lesser breed, and won't come in the holiday's hues. The candy, although delicious, will be placed in a dented box.
But don't panic! You can still salvage your Valentine's Day with an amazing, albeit last-minute, date. And no, you won't have to bribe a maître d' to achieve it. From active adventures to meaningful pastimes, there are plenty of ways to celebrate this special day even if you procrastinated. Here, some super sweet and simple last-minute date ideas for any couple that forgot about February 14.
Image: Fotolia
Serve Breakfast In Bed
Why wait till the evening to celebrate with your special someone? For semi-lazy couples who prefer pajamas to pants, breakfast in bed is the perfect way to celebrate Valentine's Day. Not to mention making your partner food is a guaranteed way to score some points. Whip up a decadent dish or turn your favorite foods into hearts with the help of a cookie cutter.
Act Like Tourists
You two may have lived in your town for years, but that doesn't mean you've seen everything it has to offer. Hop in the car (or the subway for city dwellers), and spend the day exploring the place you live. Who knows. You may end up finding a new favorite restaurant for date night.
Document Your Love
If you and your SO have been dating for a while, you've probably collected a fair amount of photos, ticket stubs, and other relationship mementos. Rather than tossing them in the trash, organize them in a scrapbook. This crafty trip down memory lane is the perfect way to celebrate the day of love.
Pamper Each Other
A couple's spa day sounds nice, but expensive. Instead, enjoy some DIY treatments at home. From massages to bubble baths, these activities will make you two feel rested, rejuvenated, and extra affectionate by the end of the day.
Enjoy a Late Lunch
Your chance of booking a table for dinner is slim, but the odds are in your favor for a lunchtime reservation. Not only is a midday meal cheaper, but it tends to be less crowded, making your date far more intimate.
Image: Fotolia
Play In the Snow
It's time to channel your inner child. Take advantage of the winter weather by building a snowman, sledding down the steepest hill, and kissing as the flakes fall. Afterwards, you can warm up with a cuddle session and cup of hot cocoa.
Break a Sweat
They say the couple that sweats together stays together. Put that theory to the test by checking out a new class on Valentine's Day. Not only will you feel great, but it will give you an excuse to indulge later that night.
Snap a Few Shots
No, we don't mean for Instagram. Borrow a digital camera and take turns photographing each other. Switch up the outfits and locations to give your shots some variety. Then, when the day is done, you can frame your favorite photos and gift them to one another.
Image: Ashley Batz/Bustle
Whip Up Dinner For Two
Sure it may seem cliche, but cooking together is an amazing opportunity to bond. To make things a little more fun, recreate the first meal you had together.
Image: Fotolia
Taste Test Wines
A Valentine's Day without wine seems sacreligious, so why not take it to the next level? Do a little research before heading to a liquor store, and host a wine tasting at home. And since you're sure to get hungry, pick up some food that pairs well with your selections.
Image: Fotolia
Paint the Night Away
If you and your SO are the artsy type, then sign up for a spot at a local Paint Nite. No room? Stop by the nearest craft store for supplies, and create some art at home.
Image: Fotolia
Pass the Popcorn
Take your Netflix night to the next level. Darken the living room with curtains, and serve snacks in movie theatre-style packages. Sure it may seem simple, but these extra touches are sure to turn your cinephile on.
Host a Game Night
Chances are you aren't the only couple that forgot to make plans for Valentine's Day. Gather all your friends, whether or not they're single or taken, and enjoy a night of friendly competition.