'Gravity' Completely Crushes Box Office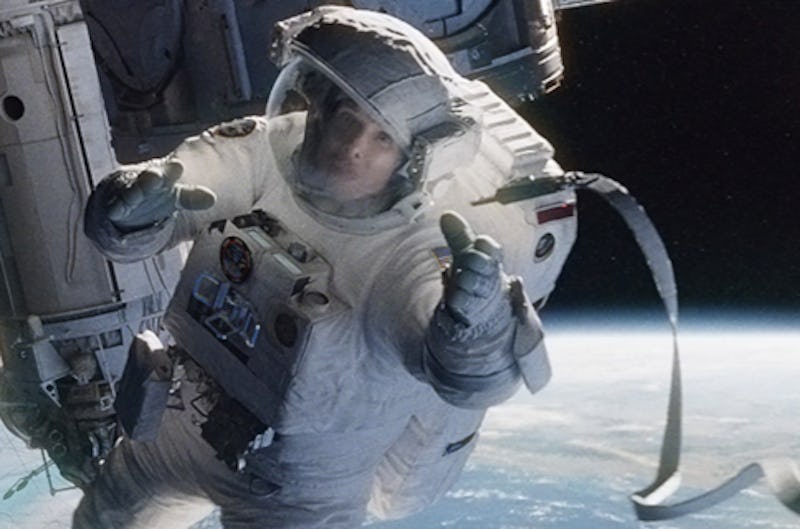 First off, let me be the first to apologize for every space pun you're going to have to endure in the coming weeks and, undoubtedly, throughout this entire awards season: Gravity pretty much completely crushed all competition at the box office this weekend. In fact, it proved to be the best first weekend haul in the careers of both of its two major movie stars.
Alfonso Cuaron's tale of two astronauts stranded in space took home a staggering $55 million dollars this weekend, banking an impressing $17.5 million on Friday alone. For reference: According to Entertainment Weekly The Heat — one of the biggest undeniable hits of the summer and also Gravity star Sandra Bullock's biggest box office haul — took in $39 million it opening weekend, while Gravity co-star George Clooney's biggest box office weekend was 1997's Batman & Robin for $42.9 million.
Cloudy With a Chance of Meatballs 2, which took home top dollar in last weekend's box office competition, came in second after Gravity this time around with $4.7 million gained this weekend for a $59 million total for its week in theaters. Meanwhile, Ben Affleck and Justin Timberlake are probably sad somewhere because their Runner Runner took home a paltry $2.8 million, which sounds like a whole lotta college tuitions to us normals, but when you consider that it took $30 million just to make the movie in the first place is kinda sad.
Image: Warner Bros