The 12 Best Moments from the 'Anchorman 2' Trailer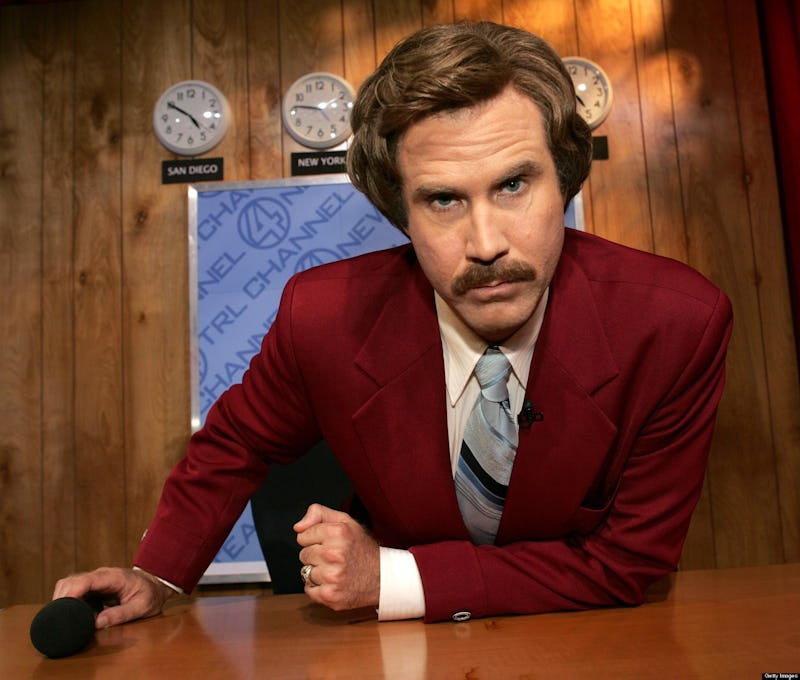 Great Odin's Raven! We're just six short months away from the long-awaited Anchorman sequel, Anchorman: The Legend Continues. And we can't imagine getting a better gift this Christmas, especially after watching the the film's latest trailer, the first to reveal any content of the sequel.
And it seems the Channel Four News Team is headed into unchartered territory: Not only are Ron (Will Ferrell), Brian (Paul Rudd), Champ (David Koechner), and Brick (Steve Carell) trying their hand at 24-hour news, but the foursome is navigating a more progressive society. And considering Ron once thought Diversity was an old, old wooden ship that sailed during the Civil War, he's come pretty far. But let's run down the best moments from the trailer:
Channel Four News Team assembles!
What's that Baxter? You can drink out of a straw now?
This image of Brian Fantana works 60 percent of the time...
But this one works every time.
Ron, to his presumably new girlfriend, played by Meagan Good: "Is that your foot between my legs? ... Oh. It was my hand."
Based on her hair and her compliment, "I like the parts of your face that are covered with skin," Kristen Wiig's character seems like a hybrid of Gilly and Dooneese.
Which is to say, she's perfect for Brick.
You know Ron doesn't speak Spanish.
Fur was a great choice.
Curiously, despite his love for whale vaginas, Ron plays with dolphins in the sequel.
Ron's racial sensitivity: "Which one of you convicts with the longest record pass me the mashed potatoes?"
And, finally, for your morning delight: The recreation of the Channel Four News Team's famous Anchorman shot:
Thank goodness God put Ron Burgundy, salon-quality hair and all, on this Earth.
Image: Getty; Paramount