How To Successfully Grow In Your Eyebrows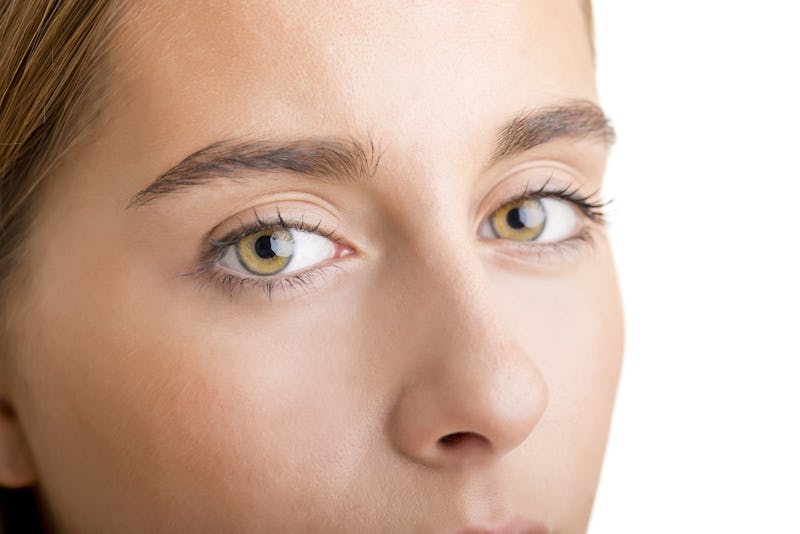 Eyebrows are an extremely important feature. This is not just because they protect the eyes but also because they help frame the face. And even though thicker brows are having a moment, we still want our face-caterpillars to appear tamed. That means eyebrow-shaping. While it usually seems pretty simple at first to just pluck the "stray hairs," I'm sure the majority of us have, at one point or another, gotten a little tweezer-happy. Whether you've made eyebrow-shaping mistakes that have caused your brows to be too thin or too far apart, the day you notice marks the beginning of a very long and emotional process of growing your eyebrows back out.
Bad news to start: Growing in eyebrows takes patience. When you regularly remove hair, especially from the follicle, it takes longer for it to grow back in. In fact, depending on the person and how much waxing and tweezing has taken place, growing brows back in can take anywhere from a couple of months to a full year. So just remember to be patient and let it happen. Of course, if patience isn't your strong suit, here are a few ways to help expedite and/or lessen the stress of the process.
1. Grow Them In Rows
Tweezerman Pink Perfection Slant Tweezer, $23, Amazon
If you want your brows to appear a little more kempt, but also don't mind it taking longer for them to fully grow back, let them grow back one row at a time. That means continuing to pluck any hairs that show up beneath the designated row of hairs that are growing in.
Fresh Sugar Face Polish, $62, Sephora
Exfoliating the area on a regular basis will help stimulate circulation, which will help hair grow back a little faster. Use a facial brush or sugar scrub and rub in gentle circles a couple times a week.
Rapidlash Eyebrow Enhancing Serum, $31, Amazon
To stimulate growth, try applying an eyebrow or eyelash serum. Both utilize the same types of nutrients to help hair grow in fuller.
NYX Cosmetics All Over Balm - Coconut Oil, $7, Ulta
Oils such as castor, olive, and coconut contain nutrients that are required for healthy hair growth. Massage one of these oils onto eyebrows for a couple minutes everyday, leave it on overnight, and rinse off in the morning for thicker brows. Just make sure to stop if you experience any irritation.
Phyto Phytophanere Hair And Nails Dietary Supplement, $60, Amazon
Hair growth can be somewhat expedited when you're consuming all of the vitamins and minerals your body requires. Make sure you're getting your daily doses of iron, omega-3 fatty acids, protein, vitamin B, and zinc whether through diet or supplements.
And while you're waiting for them to grow back in, always remember to...
Anastasia Beverly Hills Brow Powder Duo, $23, Sephora
It can help relieve some of the associated impatience to fill in eyebrows, including the areas that you want to grow back in. Not only will this help hide stubble, but it will also allow you to become used to how you look with your new face-framers.
Images: ruigsantos/Fotolia; Courtesy Brand