Kayla Mueller Was Committed To Peace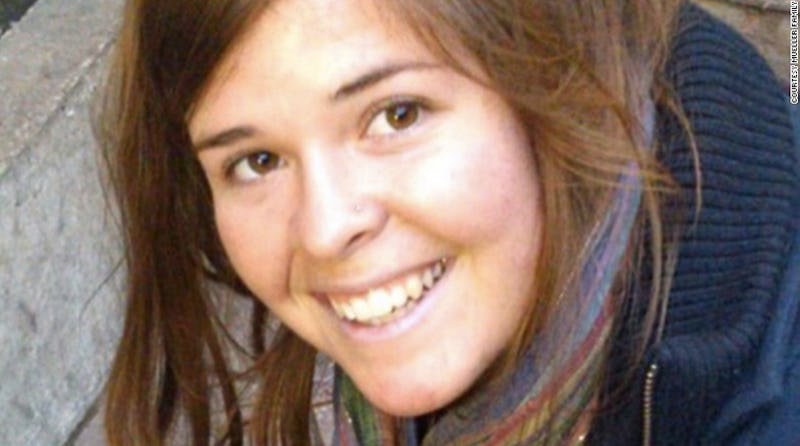 The family of ISIS hostage Kayla Mueller confirmed on Tuesday that the 26-year-old was killed by the militants in Syria. The White House has also confirmed Mueller's death, but details of how the relief worker lost her life are still vague. At this time, the U.S. government cannot verify ISIS claims that Mueller was killed during a Jordanian air strike on a militant stronghold.
Mueller's parents want others to carry on and honor her legacy as a generous and compassionate spirit. "We are so proud of the person Kayla was and the work that she did while she was here with us," her parents, Carl and Marsha Mueller, said in a statement. "She lived with purpose."
A graduate of Northern Arizona University, Mueller was passionate about human rights and activism from a young age. After college — which she finished in just two-and-a-half years — she traveled to Israel, India and Palestine for two years before returning to America in 2011 to work at an AIDS/HIV clinic.
Northern Arizona University professor Carol B. Thompson told The Arizona Republic that Mueller was an "exemplary" student at the university level:
She pushed her professors with very difficult and complex questions. ... She knew exactly what she was doing. She was not the itinerant tourist. She was the highly committed peacemaker.
The Prescott, Arizona native traveled to Turkey in late 2012 to work with Support to Life and the Danish Refugee Council. "Kayla devoted her career to helping those in need in countries around the world," her family said in a statement.
While in Turkey, Mueller worked with Syrian refugees, particularly women and their families, who were forced to flee the violence. "Kayla found this work heartbreaking but compelling," her family said.
According to the Daily Mail, Mueller's decision to provide aid in Turkey, so close to the Syrian border, wasn't a surprise to her family and friends back home in Arizona. "I am not surprised about the path she chose, she always wanted to help people," high school friend Liz Peters told the news site.
Mueller was reportedly seized by ISIS militants in August 2013 while she was leaving a Doctors Without Borders facility in Aleppo, Syria. It's still unclear why Mueller was at the facility, though she was traveling with a male companion at the time.
Mueller's family had to keep her captivity secret for more than a year while her parents worked with the U.S. government and counter-terrorism officials to secure her safe release. In the spring of 2014, the family received a handwritten note from Mueller, which is a testament to her resilience.
She wrote:
If you could say I have "suffered" at all throughout this whole experience it is only in knowing how much suffering I have put you all through; I will never ask you to forgive me as I do not deserve forgiveness.
I remember mom always telling me that all in all in the end the only one you really have is God. I have come to a place in experience where, in every sense of the word, I have surrendered myself to our creator b/c literally there was no else…. + by God + by your prayers I have felt tenderly cradled in freefall.
I have been shown in darkness, light + have learned that even in prison, one can be free. I am grateful. I have come to see that there is good in every situation, sometimes we just have to look for it. I pray each each day that if nothing else, you have felt a certain closeness + surrender to God as well + have formed a bond of love + support amongst one another…
"I have a lot of fight left inside of me," Mueller added. " I am not breaking down."
President Obama praised Mueller's dedication and compassion on Tuesday, saying she "represents what is best about America." The president also highlighted the humanitarian worker's "deep pride in the freedoms" of the American people.
"Kayla Mueller used these freedoms she so cherished to improve the lives of others," Obama said. "In how she lived her life, she epitomized all that is good in our world."
Image: screenshot/CNN