It's Now Way Easier To Google Your Symptoms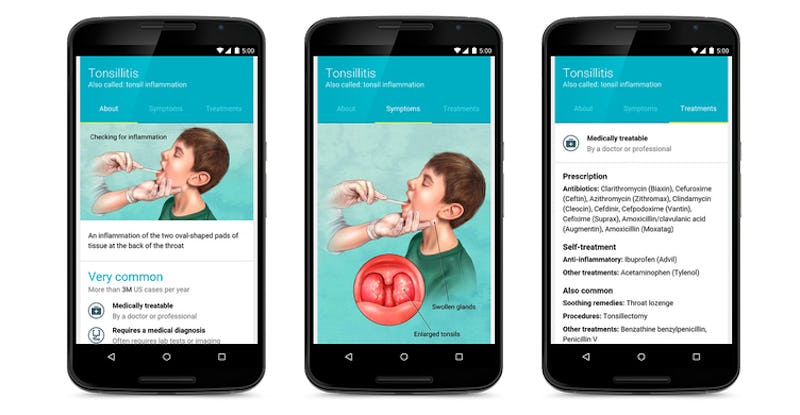 Wouldn't it be nice to Google something and get the most pertinent answers right away, rather than having to sift through multiple sites to find them? That's especially relevant when you're looking up medical conditions, and particularly when you're frantic. Having been in this position herself, Google's Product Manager Prem Ramaswami announced on Tuesday a new feature for the search engine. Now, when you ask about a health issue, Google will generate the most relevant medical information right away without requiring you to click through to another site. As a bonus, this super helpful information will be accompanied by a super neat drawing by a medical illustrator.
For its revamped medical results, Google worked with a team of medical experts to curate and compile the most relevant information for more than 400 conditions. Google also worked with experts at the Mayo Clinic to further verify the facts. The results display similarly to the search engine's Knowledge Graph, which is the information and images you see in addition to the website results. And just like the Knowledge Graph, this medical information is provided to help answer users' questions and save them the time of searching for information in the links.
This information includes a brief definition of the condition, its symptoms, how it's treated, how rare it is, whether it's contagious, how long it lasts, its causes, and how it spreads. Introducing the info is an illustration to help further describe and identify the disease. For example, meningitis is illustrated with a man holding his neck to indicate stiffness and the outline of his brain to suggest inflammation.
As of now, however, you can only get these new results by using the Google app on your mobile phone, but an expansion might be in the works.
So why is this so helpful? Well, the next time you're freaking out because your right eye is bright red, itchy, and overflowing with tears and the thought pops into your head that you might die, you can Google "pink eye" and be relieved right away to learn that no, pink eye is not fatal.
Take a look at some of Google's new medical results.
Tonsillitis
Pneumonia
Food Poisoning
Rabies
Arthritis
Pink Eye
Common Cold
Measles
Influenza
Images: Google