Polyester And Neon Are Never The Answer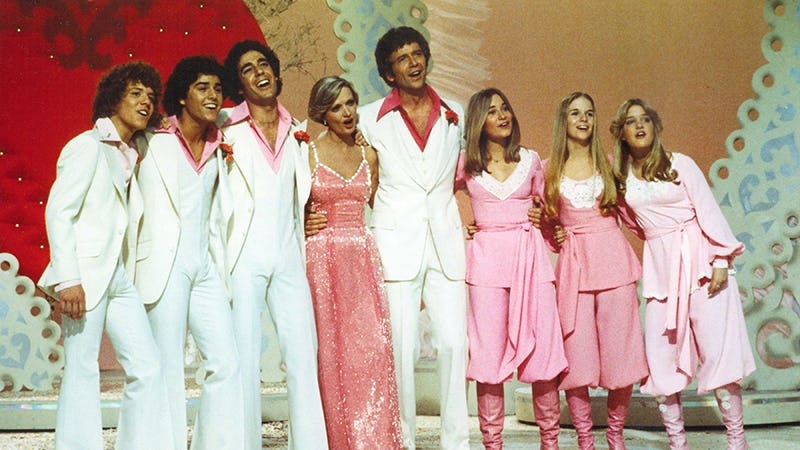 The 1970s are back, and I'm not talking about disco or environmentalism — though both cultural phenomena are curiously on-trend for 2015 as well. '70s fashion has stormed the runways, and from the looks of it the better part of Spring 2015 will be devoted to the sort of couture-edged bohemianism that Sienna Miller adored in the early aughts. The androgyny and glamour of Saint Laurent and Halston is once again in vogue, suede is having a psychedelic moment, and hypnotically printed shift dresses are so of the moment it would be a sin not to be seen in one.
However, '70s fashion wasn't all cheeky glamour and quirky prints. In fact, the decade produced trends so heinous they should have been retired before they hit the streets. The designers of 2015 know a thing or two about fit and the ability of a garment to flatter the body that was mysteriously missing from some of the '70's most notorious trends. Whoever thought metallic jumpsuits with flared cuffs was appropriate clubbing attire must have taken one too many hits of Kool Aid, and the pairing of dowdy full-length a-line skirts with slouchy blouses was simply inexcusable. Read on for five '70s trends to boycott for 2015, unless you happen to believe that polyester should be 2015's fabric of the year.
1. Flared-Leg Polyester Pantsuits
Any trend that simultaneously appears tacky and unflattering has no place on the street, in the office, or anywhere else it might be seen by other human beings. The modern suit is meant to convey authority, but how much dominance can you possibly communicate when your frame is being swallowed by swaths of excess fabric? And if you do insist on being smothered in a surplus of fabric, at least make it silk or velvet.
2. Neon Head To Toe
Out of respect for your friends, coworkers, and significant other, try to resist the urge to dress head toe in a shade so bright that might produce an aneurism. Sure, Hillary Clinton gets to wear whatever the eff she wants, but the rest of us normals should stick to neon as an accent only. Neon hues are meant to be doled out in small doses, not heaped onto a single ensemble so the wearer looks like a human highlighter.
3. Color Coordinated Stockings
It is undeniably adorable when a child wears a frock with matching tights, but in an adult the look is unsettling, to say the least. A word to the wise: Don't wear orange tights with your orange dress, white tights with your little white dress, or undertake the trend with any color palette aside from black unless you wish to look like a twenty-something who thinks she is a preschooler. The look only worked on Blair Waldorf in Gossip Girl and even then it was retired once the rule-bending Upper East Sider graduated from high school.
4. Heavily Feathered Hair
The late Farrah Fawcett absolutely owned her dirty blonde, feathered locks, but for 2015 the look simply reads too high maintenance. The only exception is of course the talented John Cameron Mitchell, whose feathered wig appears in the Broadway rendition of Hedwig and The Angry Inch and defies all sartorial rules.
5. Slouchy, Ill-Fitted Mom Jeans
Admittedly, the normcore movement has unexpectedly brought high-waisted jeans back to the forefront of fashion. However, there is a fine line between normcore and simply unflattering, and '70s-style, high-waisted, shapeless bootcut jeans need to remain in the 20th century.
Images: The Brady Bunch/ABC; Getty Images