More People Rent Than Buy In The Biggest U.S. Cities, & It's Not Just Because Home Ownership Is Super Expensive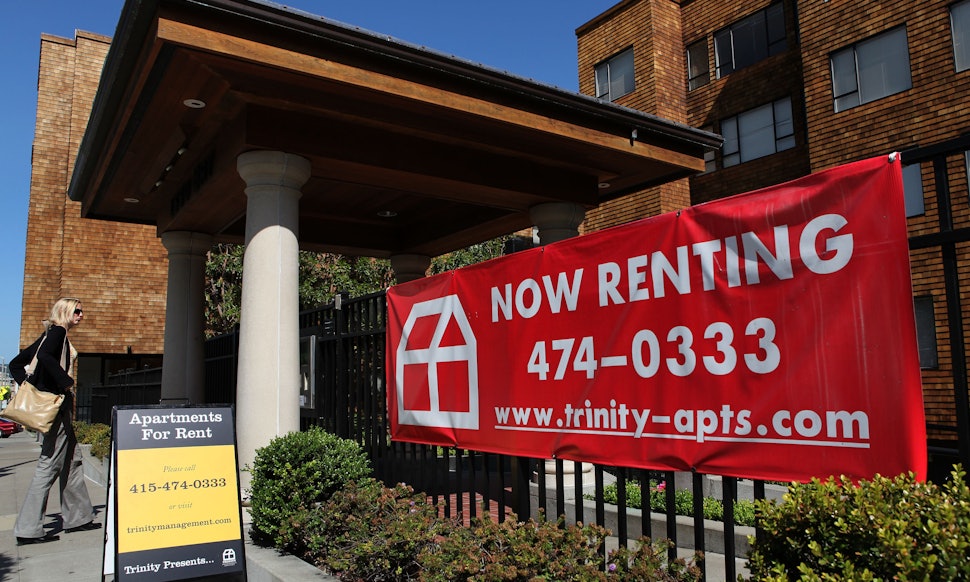 Justin Sullivan/Getty Images News/Getty Images
Large cities have changed in one huge way since 2006. According to a new report released Monday by New York University's Furman Center, renters now make up the majority of residents in almost every major metro area in the country. Less than a decade ago, this was not the case.
The study reports that, as of 2013, nine of the nation's 11 major cities had bigger populations of renters than of homeowners. In 2006, that number was almost half of that, with five cities out of the 11 with more renters than owners. Although the renting trend previously dominated the most costly cities, such as San Francisco, New York, and Washington, D.C., the trend has now spread to less expensive cities, such as Houston and Dallas.
Although skyrocketing costs can be pegged as a major contributor to the shift toward renting, the spikes in less expensive cities' numbers seem to indicate that the trend is about more than just the price. According to The Wall Street Journal, the addition of cities such as Dallas and Houston to the list — two cities that have seen massive job growth in recent years — suggests that the change in living preferences correlates with a change in the city's residency.
Massive job growth creates a wealth of entry and mid-level jobs, which in turn draws younger workers. Because younger workers tend to be much more transient and have less disposable income and savings, they tend to prefer to rent rather than to buy when they move. Markus Moos, a professor at the University of Waterloo, describes this uptick in cities' youth populations as "youthification," which he defines as "the influx of young adults into higher density" areas, he told CityLab.
The results of this youthification? New rental housing and amenities are added to neighborhoods, which in turn draws even more young people. However, the demand is outpacing the supply. Ingrid Gould Ellen, the faculty director of the Furman Center, told The Wall Street Journal:
As the number of renters grow, if the supply of rental housing does not keep up – as it has not in most of these cities – then vacancy rates will fall, rents will rise, and more renters will struggle with the cost of housing.
When people are resorting to renting because of the high cost of home ownership, increasing rent costs will only exacerbate the already very present wealth gap by making city living costs that much less affordable. Over the seven-year period of the Furman Center's study, for example, rent in Washington, D.C. rose by 21 percent, according to The Wall Street Journal. Both the cost of rent and the number of renters are expected to continue rising.
So, while the decision to rent might be a currently choice for many millennials — a reflection of the generations' differing values and perception of the American Dream — if rent costs continue to skyrocket, this choice might no longer be the best option.
Images: Getty Images (2)