Jon Stewart Leaving 'The Daily Show'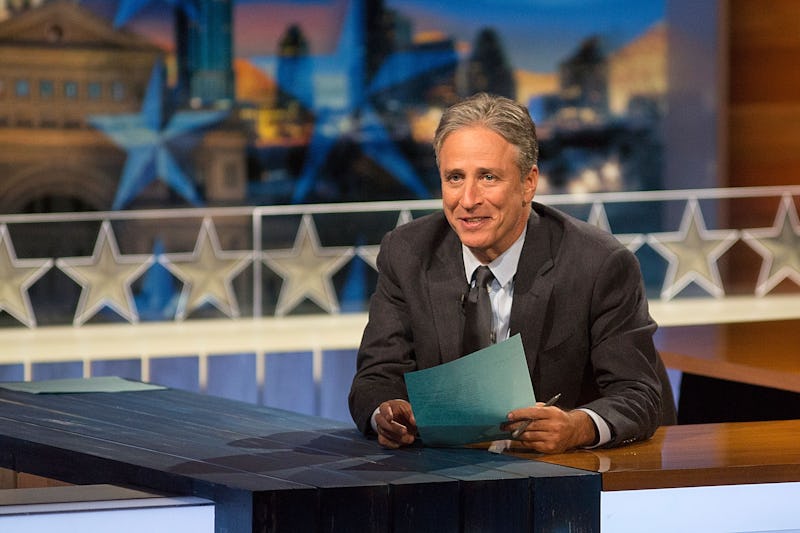 Well this is somewhat unexpected: Jon Stewart has announced his departure from The Daily Show . Further information will reportedly come in Tuesday's episode. It's a major moment — for satire, for news, and for television in general. And we just got over the loss of The Colbert Report!
The AV Club's Sean O'Neal originally reported that Stewart spilled the beans on his departure during a taping of Tuesday night's episode this afternoon. Comedy Central also released the following statement Tuesday afternoon, shortly after AV Club published its report:
For the better part of the last two decades, we have had the incredible honor and privilege of working with Jon Stewart. His comedic brilliance is second to none. Jon has been at the heart of Comedy Central, championing and nurturing the best talent in the industry, in front of and behind the camera. Through his unique voice and vision, The Daily Show has become a cultural touchstone for millions of fans and an unparalleled platform for political comedy that will endure for many years to come. Jon will remain at the helm of The Daily Show until later this year. He is a comic genius, generous with his time and talent, and will always be a part of the Comedy Central family.
Stewart earned his place as a modern icon: He straight-up changed the way so many people interacted with the news cycle, and his legacy will live on long past the day he steps down from that Comedy Central desk. In fact, it already is: The Nightly Show With Larry Wilmore just premiered in January, and John Oliver's been kicking all kinds of ass on his show Last Week Tonight on HBO.
We all got nostalgic when Stephen Colbert closed up shop at The Colbert Report , and for good reason — but Stewart was (is) even more the epicenter of this entire operation. He might be moving on to direct more movies or focus on other things in life; we don't know for sure yet. But despite his decision to take this step away from this genre he helped build, his mark will always remain.
Image: Rick Kerns for Getty Images