Jon Stewart's Best Clips Are A Must-Watch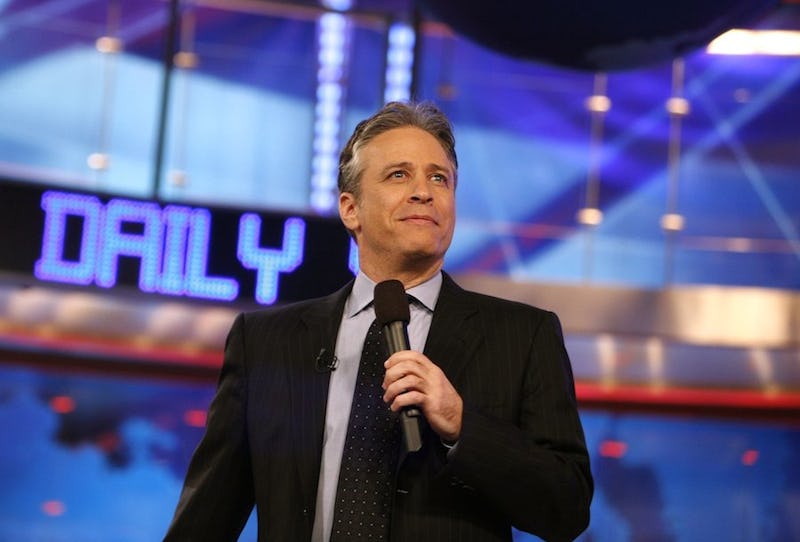 Legendary political satirist and comedian Jon Stewart made headlines late Tuesday when he announced that Stewart will be leaving The Daily Show later this year. Stewart reportedly let the news slip during Tuesday night's taping of the show and, shortly after media outlets caught wind of it, Comedy Central president Michele Ganeless later confirmed with an official statement that broke the hearts of millions across the world. It is not clear what Stewart will do next or who will take his place on The Daily Show, (however, Bustle's very own Kristie Rohwedder had some great, lady host suggestions!) but what is clear is that Stewart's presence will be sorely missed. As Ganeless said of Stewart's decision in her statement:
For the better part of the last two decades, I have had the incredible honor and privilege of working with Jon Stewart. His comedic brilliance is second to none. Jon has been at the heart of Comedy Central, championing and nurturing the best talent in the industry, in front of and behind the camera. Through his unique voice and vision, 'The Daily Show' has become a cultural touchstone for millions of fans and an unparalleled platform for political comedy that will endure for years to come. Jon will remain at the helm of 'The Daily Show' until later this year. He is a comic genius, generous with his time and talent, and will always be a part of the Comedy Central family.
Stewart has been a mainstay of American culture nearly two decades: Since 1999, Stewart has dedicated himself to poking fun at American news and media on The Daily Show, becoming one of the "most trusted men in America," in addition to earning numerous awards and accolades along the way.
Stewart is a respected and adored facet of American culture and there is no better way to honor his imminent departure than to take a look back at just a few of his many, many wonderful moments on the show that made him a household name:
Post-9/11 Address on The Daily Show
A somber and emotional Stewart addressed the devastated American public shortly after the events of 9/11 and handled the issue with grace and just a touch of his renowned humor, reminding us of our enduring freedom and the privilege that allows him to do what he does.
Bush/Gore Election Coverage
Stewart took much delight in covering the chaos that was the messy 2000 Presidential election:
"Childrens Do Learn"
Stewart rips President Bush a new one for his lack of subject/verb agreement in a speech on education in 2007.
Stewart Tells Fox News to "Go F**k Yourself"
Stewart sticks it to Fox News. Featuring a gospel choir and copious cursing starting at 3:45, it's epic.
Interview with Nancy Pelosi
This is the second of a two-part video of the interview. Pelosi is put on the spot about financial corruption in politics and Pelosi, visibly flustered, makes an awkward attempt to change the subject. Skip to 2:53 for the good stuff.
Sarah Palin and the Gender Card
Stewart rips into Sarah Palin's bizarre speech from the Iowa Freedom Summit in 2008.
Appholes
Stewart waxes philosophic on the empire that is Apple.
Republican Candidate Said What About Rape Now?
Stewart criticizes the Republican party for continuing to support 2012 Senate candidate Richard Mourdock, despite his highly controversial statements on rape and abortion rights.
The Daily Show will truly never be the same.
Image: Comedy Central