Ta'Rhonda Jones Makes Porsha An 'Empire' Favorite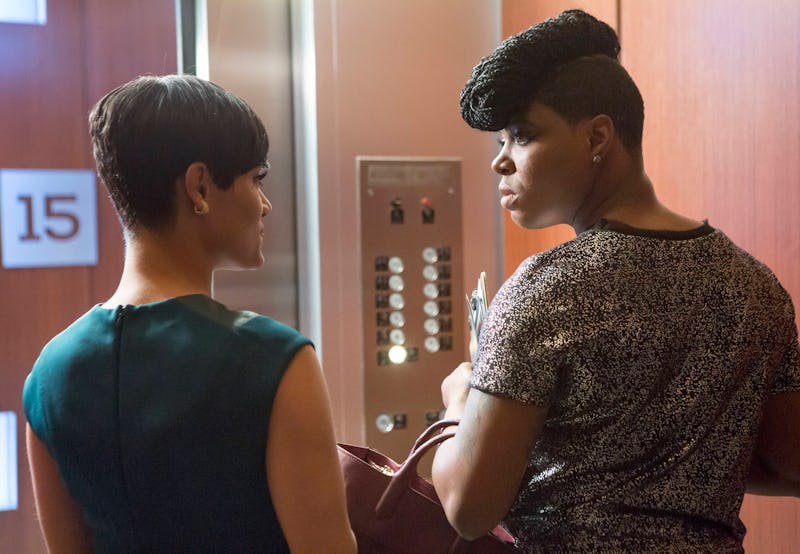 Is Empire killing it or what? The show mixes soap opera goodness, intrigue, and fascinating family dynamics to create a ratings juggernaut. Empire also has major talent behind it, including executive producer Lee Daniels and Oscar nominated actors like Taraji P. Henson holding it down. But, there's one fan favorite whose name we don't know as well, Ta'Rhonda Jones as Empire's Porsha, Cookie's loyal assistant. It takes a lot of chops to handle such a fiery character like Cookie, especially when she's played by an actress as amazing as Henson. But I think Porsha can handle it, and so far, it's clear that Jones definitely can.
If you feel like Jones came out of nowhere, that's because she pretty much did. In an interview with WGN Radio, Jones explained that she was working a regular job when a friend let her know that Terrence Howard was looking for female rappers in their twenties. She didn't know exactly what the audition was for, and actually auditioned for the role of Hakeem's girlfriend, Tiana. But after two more auditions, she was cast as Porsha instead.
In the interview, Jones also says that she is a born performer, though her acting career really began when she was cast on Empire. The Chicago native's true passion is rapping, which means she's basically tailor made for Empire. It's pretty amazing that this is her first role — it's definitely an awesome way to jumpstart your acting career.
Hollywood Cinderella stories often seem like publicity spins, but Jones is the real deal. I'm happy Empire is mixing new and established talent to create their world, and Jones brings great energy and comedy. Her reactions to the crazy antics happening around her reflect how I would react too. Is it any wonder she's become a fan favorite? Just take a look at what some viewers are saying about her:
As Empire continues its first season, we'll see Porsha aid Cookie in her path toward vengeance and power. Jones may be new to Hollywood, but her role as Porsha shows we'll be seeing her talent for years to come. I can't wait to see how she develops as an actress.
Did you forget Porsha or any of Empire Season 1's other great moments? Watch Bustle's drunk recap here:
Image: Chuck Hodes/Fox