Who Is 'Gotham's Joker? You Should Know His Work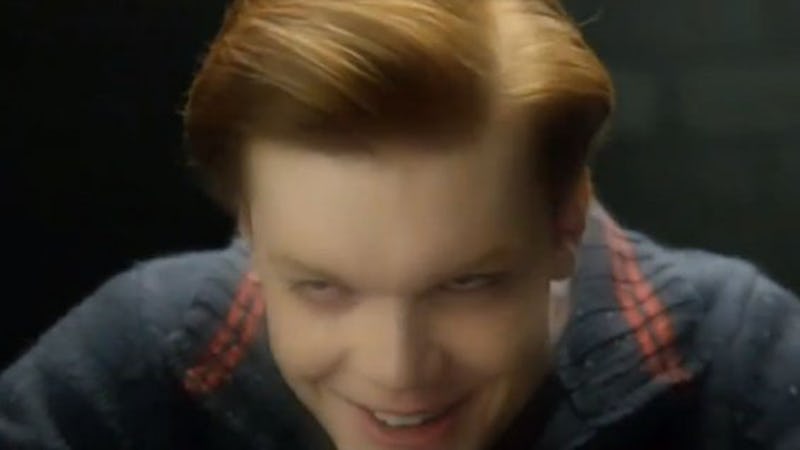 For all you Gotham fans out there, you're probably still trying to recuperate after that amazing episode Monday. Every week, the show continues to wow us with its incredibly captivating back stories for Batman fans' favorite villains. And if that wasn't enough to put you on the edge of your seat, the show's next episode "The Blind Fortune Teller" is really not "joking" around — or at least that's what Fox wants us to believe.
At the end of next week's promo we get a quick glimpse of the new character Jerome, a young boy with a devilish grin and unsettling laugh. Even though it is not explicitly mentioned that The Joker will be coming to Gotham in this episode, it does infer that this new character Jerome is in fact him. While we're super excited for this iconic villain's appearance, the real question here is, who is the guy behind the grin?
Well, his name is Cameron Monaghan and you might recognize him for his role as Ian Gallagher in the Showtime series Shameless . Aside from possibly playing one of the best Batman villains of all time, here are a few facts about the actor you may not have known.
He was in the ABC television adaptation of The Music Man
Even though he was involved with stage theatre when he was younger, Monaghan's big break came when he was cast as Winthrop Paroo in the ABC television adaption of The Music Man. Not to mention the adaption also starred Matthew Broderick and Kristin Chenoweth. Talk about the dream first gig.
He was in Malcolm in the Middle
If you're a big Malcolm in the Middle fan like me you might have recognized that red hair and wide smile from the Gotham promo. Monaghan actually played the role of Dewey's special needs classmate Chad in the series. You know, the kid that always wore red gloves and had a slight case of OCD? Not only was he super funny in the show (but I mean, the whole cast was hilarious) his performance even earned him the Young Artist Award as Best Young Television Actor in a Recurring Role.
He is a musician
When Monaghan was on the set of The Giver he said they would always play music together during breaks. Aside from singing a few tunes during cast jam sessions, he also plays guitar, drums, harmonica, and ukulele.
He is actually a comic nerd
Monaghan has no problem letting people know he was a big comic nerd when he was younger. During a time when comic adaptions are all the rage, he said he's super excited about his role on Gotham.
Joker or not, Cameron Monaghan is a great addition to the Gotham series — and I don't know about you, but but I cannot wait to see what unfolds next Monday.
Images: Fox, ABC, Giphy, cameronmonaghan/Instagram