Hello Kitty Contacts Are a Real Thing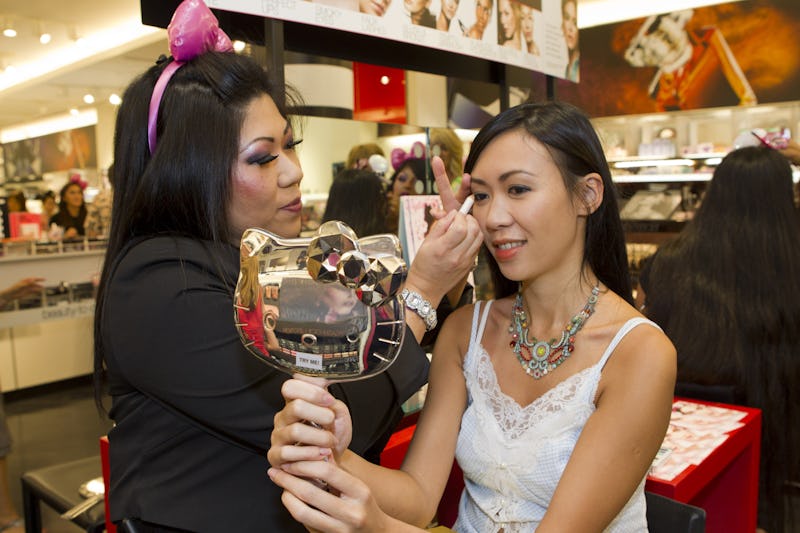 Marco Garcia/Getty Images Entertainment/Getty Images
Kawaii-enthusiasts around the world are purring with excitement: Hello Kitty contact lenses are now available on the market to turn your boring eyes into a violet pinwheel of the famous cat's faces. And they're just as creepy as you'd expect.
Yes, this is a real thing that actual real people want; Hello Kitty may be big here in the United States, but she's even bigger in Japan, where there is a huge demand for these lenses. Seriously.
Although we're surprised to see these, in thinking about it, we really shouldn't be. After all, the Sanrio character is a commercial cat queen: She's got her own plane with Taiwan's EVA Air and her own line of beer. In some twisted world, it only makes sense the cartoon would show up in the popular circle contact lens from, which has been embraced by Japan's "kawaii" culture, and made famous by Lady Gaga in a Hello Kitty photo shoot, as well as her "Bad Romance" music video.
So, if you actually want to get in on this, it'll cost you $100. The pastel-colored contacts embellished with Hello Kitty's faces and tiny hearts will arrive in an adorable package, complete with a Hello Kitty contacts case and box, as not to leave an inch of anything from having her face on it.
A note: These guys aren't prescription, so the irregular circular shape of the contact lens may not fit the eye properly — the way prescriped contacts do when they are fitted by an optometrist — which heightens the risk of scratching the cornea. They could also cause major eye infections with prolonged use, according to ABC News.
So, y'know, get kitschy at your own risk.
Image: Getty Images