Lumi May Be The Coolest 'Shark Tank' Product Ever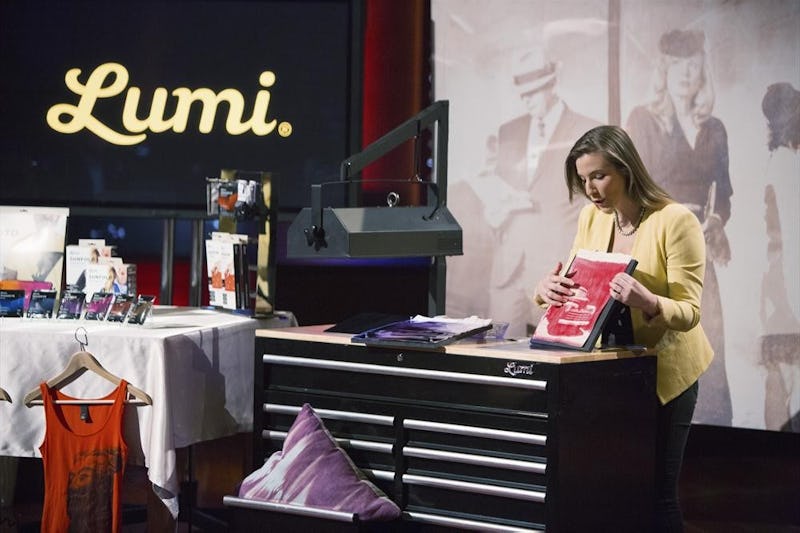 There have been a lot of cool inventions on Shark Tank this season, but Lumi might be my favorite. In case you haven't heard of Lumi, let me be the one to introduce you. This business, which will be introduced on Friday's new episode, is basically solar screen-printing. Once you buy Lumi's special sunlight-activated dye, you have the ability to print on natural materials using just the dye, the sun, and your washing machine. It's seriously that simple, and the designs that come out of it are amazing.
Here's how Lumi works, according to the company's website: You create a negative of the image you want to print on Lumi's app, and then print it out. Then you mask the fabric with their Inkodye, lay down your negative — which will block the sun from absorbing certain parts of your design — and let your fabric soak up the sun for 10-20 minutes. Then, you wash it with their Inkowash that removes the unexposed dye, and boom. Brand new screen printed shirt (or other item), and it barely took any of your time.
Now, let's talk prices. Although you can buy their products individually, for $35 on Lumi's website, you can get a kit that has everything you need in it to print four 12x12 designs (or more, if your designs are smaller) of your choosing. That's a pretty good deal, especially considering that this is such a cool project, especially for Pinterest-obsessed people like me who love to DIY anything and everything. Lumi has its own hashtag on Instagram where customers post their results, and they're pretty impressive. This patch for a memory quilt made with Lumi below is incredible.
Not feeling the online ordering? Lumi's already being sold in stores across the country, including crafting chains like JoAnn's and Michael's. I put my zip code in their store locator, and there are six different stores pretty close to my house where I could go buy Lumi right now — pretty impressive for a new business, don't you think?
I have a feeling that the sharks are going to be all over this one, and I hope that they are. I'm into this idea, and kind of want to go buy a kit and start making stuff with my own face all over it. Or would that be too much?
Image: Michael Desmond/ABC