'Shark Tank's Boobypack Helps You Stuff Your Bra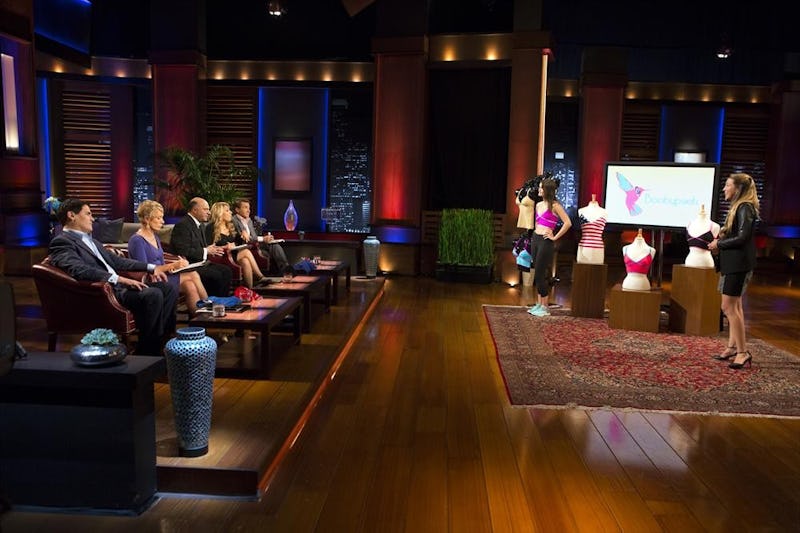 Listen up, ladies. I know how frustrating it is that women's clothing often does not come with pockets and stashing your smartphone inside your shirt isn't a very good look. So if you're struggling to figure out what to do with your phone on those occasions when you can't, or don't want, to carry a purse, how about you give one of Shark Tank 's latest products, the Boobypack, a try?
The Boobypack is just what it sounds like. It's essentially a fanny pack for your chest so you have somewhere to store your belongings in case you don't have pockets and don't want to carry around a handbag. But trust me; it doesn't carry the same lame connotation as a fanny pack.
When founder Christina Conrad enters the Shark Tank, I expect the majority of the sharks to laugh at her and her creation. I mean, the product — from its name to its marketing — is just funny, which is something the company is very self-aware of, by the way. However, if Boobypack has actually made some money in the couple of years since its launch, Conrad could end up laughing all the way to the bank. Here's why the sharks will not only notice Boobypack, but also why it will demand their attention.
It's "A Top Shelf Fanny Pack"
At first glance, the Boobypack just looks like your regular, old sports bra or camisole. However, it is so much more than that. Why else would we be talking about it? Each Boobypack has two zipper pockets that lie along your ribs on both sides of your body. They're reinforced, water resistant, and big enough to fit essentials like cash, a smartphone, and a passport. The Boobypack comes in several different designs, from sports bra-length to camisole, hot pink to a stars-and-stripes pattern. These crazy styles are probably for the best, because it looks like you have to show off your Boobypack or risk having your chest look pretty weird if you wear it under your shirt.
A Boobypack Could Actually Come In Handy
Say what you want about the Boobypack, but it actually could be useful. It was originally marketed as something you could wear to raves and EDM festivals when you don't want to bring a nice purse along and need your hands free to wave those glow sticks. However, you can wear the Boobypack basically any time a bag just isn't going to cut it. This could include hitting the gym, going to a party, or when you're traveling. This way, you get to keep your belongings hidden while avoiding the fanny pack, which just screams, "I'm a tourist!"
Kickstarter Gave Boobypack A Lift
Like so many new products these days, Boobypack got its start on Kickstarter. It successfully raised more than $32,000, twice its goal, in January 2013. Hopefully Conrad will be just as entertaining on Shark Tank as she is in the two-minute video describing the Boobypack.
Boobypack's Founder Had A Totally Different Career Path
Believe it or not, Conrad has not aspired to create and sell the Boobypack since she was 7 years old. However, she actually began her career in publishing. After graduating from Georgetown University and Columbia University's graduate program in publishing, she worked at Time Inc. as an editorial assistant, an assistant editor, and then a freelance writer. Then one day, Conrad came up with the idea to give ladies somewhere (other than their purses) to store their belongings and from which they wouldn't fall out. After making her idea a reality with the help of designers, patent lawyers, and production companies, Conrad quit her day job and decided to give the Boobypack the full-time support it needed.
You Can Buy Your Boobypack Now
Does the Boobypack sound like something that will really fill out your life? You're in luck, because you can get your hands, er, ta-tas, on these babies right now through Boobypack's official website. As I previously mentioned, the Boobypack comes in a sports bra-like style and a camisole in a wide variety of colors and patterns. They range in price from $55 to $65 and come in small to extra-large sizes.
Be Careful What You Put In Your Boobypack
You've probably heard your mom tell you to be careful about how close you keep your smartphone to your body for fear of picking up radiation. You may be sort of hesitant to put your smartphone in your bra for that very reason. While studies have not shown a link between cell phones and cancer, no one really knows if there is a link between putting your cell phone in your bra and getting breast cancer either. Boobypack recommends turning off your phone before putting it in your Boobypack "just to be safe."
If we've learned anything from the sharks, it's to not take unnecessary risks.
Image: Adam Rose/ABC