'black-ish' Returns for Valentine's Day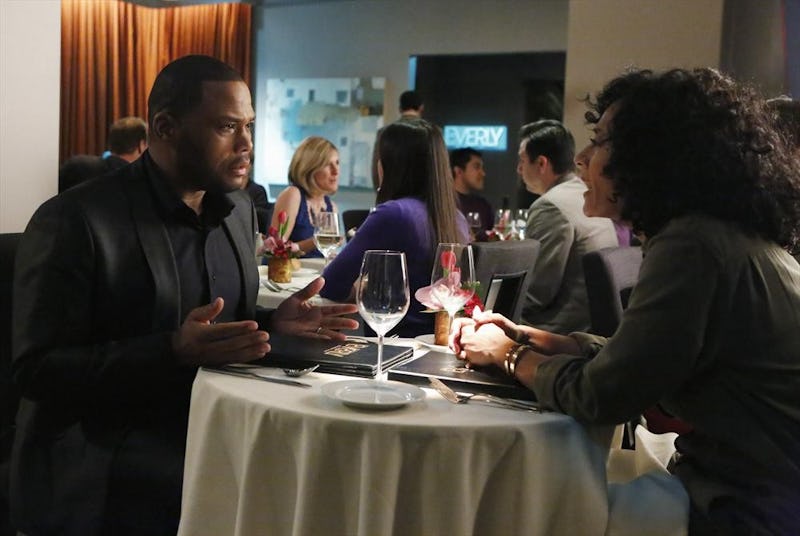 Looks like after cleaning up at the NAACP Image Awards, ABC has finally allowed black-ish to return for Valentine's Day. In the interim, there's been four weeks of reruns and the very strong debut of Fresh Off the Boat (don't miss out on that show, by the way — it's now on Tuesdays). What disappointing about only hearing from black-ish on holidays recently is that sitcom episodes get particularly trope-heavy when it comes to special occasions. It takes a very special show to get away from Valentime's Day stereotypes, and black-ish only halfway succeeds.
One thing I will say is that in the time off, black-ish has perfected writing for its four kids. Diane is the withering one, Zoe can pretty much only handle delivering exposition, Junior is the unbelievably nerdy jokester, and Jack should just sit there and look cute. Their interplay has gotten way more fluid, reminiscent of the best episodes of Modern Family. They should crank the jokes from a solid 6 to at least an 8, if not the full 10, because I feel like the kids can handle it. I was dying to hear exactly how strongly Diane felt about everyone and everything around her, and tempting her with ever weirder and weirder passersby until she finally broke, rather than just leaving the episode with her still nice. They could have trimmed a few minutes from Bow and Dre.
Dre and Bow getting into a huge fight at a fancy V-Day restaurant suffers from sitcom-itis. The "marriage as war" metaphor isn't terrible, but ending with the two making up, getting over all their trouble, and cuddling with a copy of "Hoodfellas" doesn't exactly break new ground. It flirts with something a little different towards the end, the idea that fights are an important way to let off steam, but I would have loved if maybe they agreed rather than making V-Day a big deal that it was their designated day for getting all their yearly grievances off their chests. Turning the day every corporation determines is for love into a celebration of all the ways you don't get along feels more like Bow and Dre... and more like what ends up happening whether you plan to or not.
Hopefully we'll see black-ish again before Easter. Maybe they'll set it free for Mardi Gras?
Image: Kelsea McNeal/ABC (2); Giphy