'Shark Tank's Robert Is Living The Canadian Dream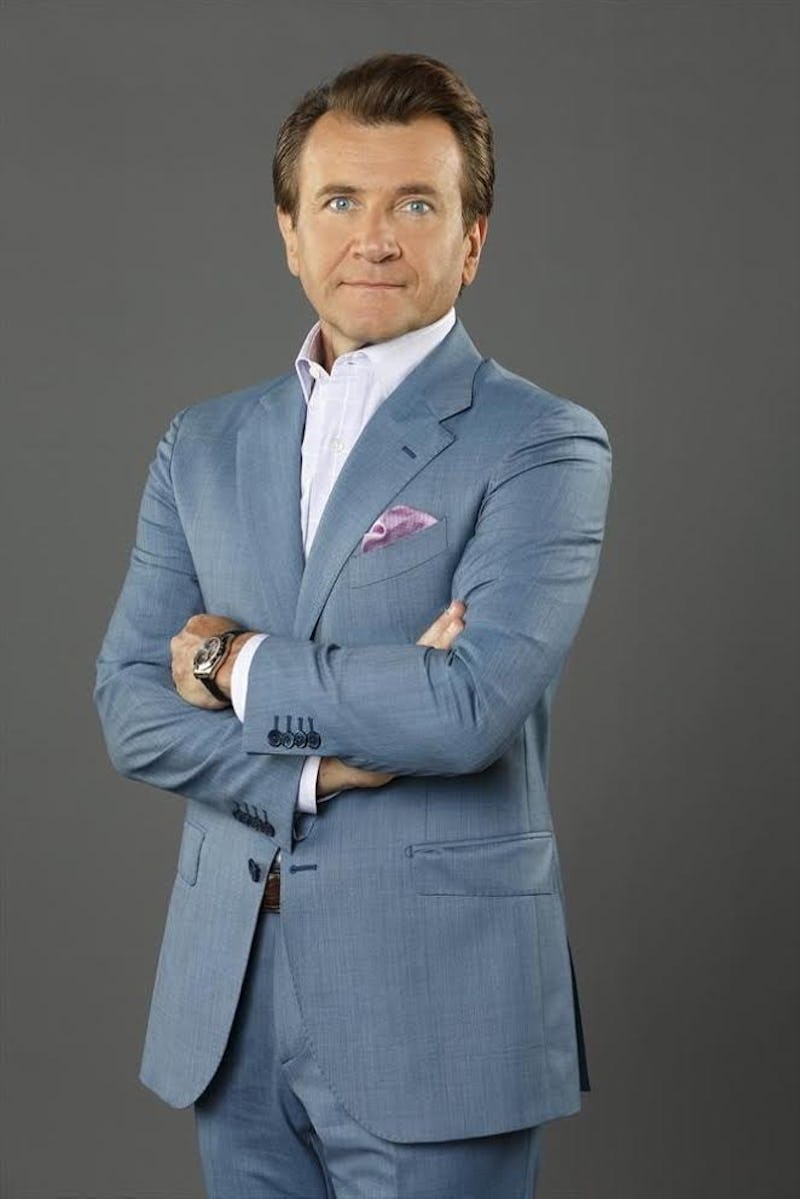 If you know anything about Shark Tank , you know that the investors on the show are kind of a big deal. Not only do their net worths make you want to cry, but they also all have amazing stories involving humble beginnings, hustle, and happenstance. Robert Herjavec's climb to fame and fortune is no different.
Just like we all know Robert loves a snazzy suit and puppies from watching Shark Tank, we're also quite familiar with the beginnings of his rags-to-riches story. Robert was born in Croatia, where he grew up on a farm. He and his parents went to Halifax, Canada when he was 8 years old in order to flee the communist oppression of Eastern Europe, and they made their home in a suburb of Toronto. With only one suitcase and $20 to their name, the Herjavecs lived in a basement for their first year in this new country while Robert's father worked in a factory to support the family.
Robert's early jobs included delivering newspapers and waiting tables at a fancy restaurant. However, when he found a mentor in the form of Warren Avis, the founder of Avis Rent a Car, with whom he also worked at his first company, this changed everything. Robert eventually accepted a $60,000 payout when he left the company, which, at the time, he thought would be the most money he would ever make.
Not so, my friends. The next company Robert started would be an even bigger moneymaker. Robert launched his first technology company in 1990 called BRAK Systems, one of North America's first security integrators. He would eventually sell this company for a reported $100 million to AT&T in 2000.
So that must have been a nice chunk of change for Robert. You would think he could have just retired and spent time hanging out with dogs and trying new gadgets, or whatever else he likes to do that we don't get to see on Shark Tank. But no, Robert just kept on going, joining RAMP Networks, an early developer of VPN technology, as the worldwide vice president of sales. He later helped negotiate the sale of that company to Nokia for $225 million.
From 2000 to 2003, Robert took a little break to be a stay-at-home dad, which should just make you love him even more. But even the joys of fatherhood couldn't keep Robert out of business for too long. In 2003, he launched The Herjavec Group, Canada's largest information security company. Through the years, The Herjavec Group has acquired several companies, and it's now worth more than $125 million. And there's no slowing Robert down. He told Exceptional magazine in 2013 that he sees the company growing to $250 to $500 million in revenue in Canada annually.
Robert knows the importance of having a diverse portfolio, and he is perhaps best known for being a TV personality as any of his other business endeavors these days. He joined Dragons' Den in the mid-2000s, the Canadian show that inspired Shark Tank. And he is of course currently one of the most beloved investors on Shark Tank. At one time, that was just because of Robert's eternal enthusiasm, but his impressive, inspirational, and truly amazing story should give all Shark Tank fans a newfound respect and appreciation for the man.
Images: Bob D'Amico/ABC; sharktankgifs/Tumblr (2)