'Back To School Mom' Puts A Twist On A Common Tale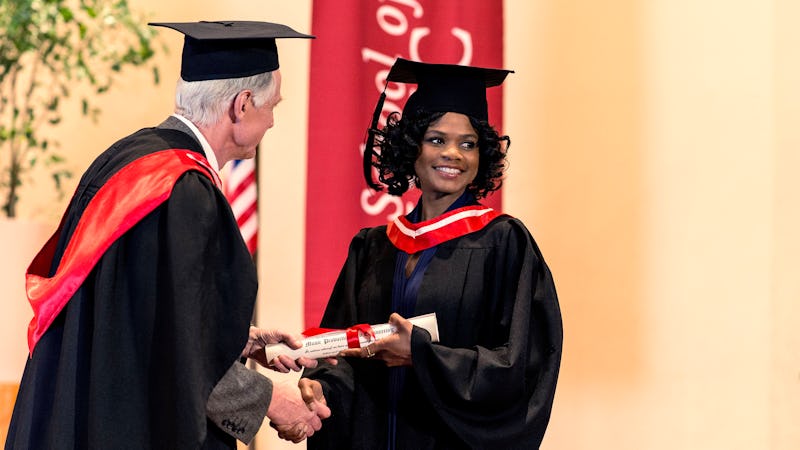 The real world kinda sucks. Monica tells Rachel that in the very first episode of Friends and Shoshanna came to that realization on this week's episode of Girls. It's that one fact that makes returning to school all that much sweeter. But of course, even that can get a tiny bit complicated, because that's just the way adult life is. Lifetime's TV movie Back to School Mom, premiering Saturday night, deals with this very subject — Kimberly Elise stars as Mary Thomas, a musician who returns to college to finish her degree, but also runs into the son she put up for adoption years prior. So is Back to School Mom based on a true story? While Mary's tale was created by Lifetime, there are plenty like it in real life.
Mary returns to school and sees her son Noah (played by Denzel Whitaker) all grown up — how she knows it's him is beside the point. Despite her better judgment, she decides to get to know this sweet guy who has also been assigned to be her peer tutor at school. As for real life, while the accidentally-discovering-a-long-lost-child part isn't exactly common, there have been a lot of mothers who head back to school to finish their degrees after putting their education on hold. In fact, it was so common that for a while, there was an Internet scam regarding "mom grants" to fund university education.
Here are three similar true life tales of famous moms headed back to the college campus.
J.K. Rowling
Yeah, you totally know that name. But what you may not know is that the author of the wildly popular Harry Potter novels came up with them when she returned to university for a teacher training course. That's right. Rowling moved around Europe, went through a rough divorce, had her daughter Jessica, and was on welfare as she wrote Harry Potter in coffee shops and studied.
Rowling talked about this period of her life during her Harvard commencement speech in 2008 (above). "I was set free, because my greatest fear had been realized, and I was still alive, and I still had a daughter whom I adored, and I had an old typewriter and a big idea," she said. "And so rock bottom became the solid foundation on which I rebuilt my life."
Christy Turlington
This supermodel was famous for her Calvin Klein and Maybelline ads in the '90s, but these days, she's a mom working on a masters degree in public heath at Columbia University's Mailman School of Public Health. Turlington has a a son and a daughter with husband Edward Burns, along with running her organization Every Mother Counts, which works to reduce the mortality rate of mothers globally.
Elizabeth Shue
This Adventures in Babysitting and Leaving Las Vegas actress famously dropped out of Harvard in 1988 one semester short of graduating. Shue has two sons and a daughter with husband film director Davis Guggenheim. After having her first son Miles, she returned to Harvard and finished her political science bachelor's degree in 2000.
Images: Graham Bartholomew/Lifetime; Getty Images