Will 'HTGAWM' Season 2 Include the Keating Five?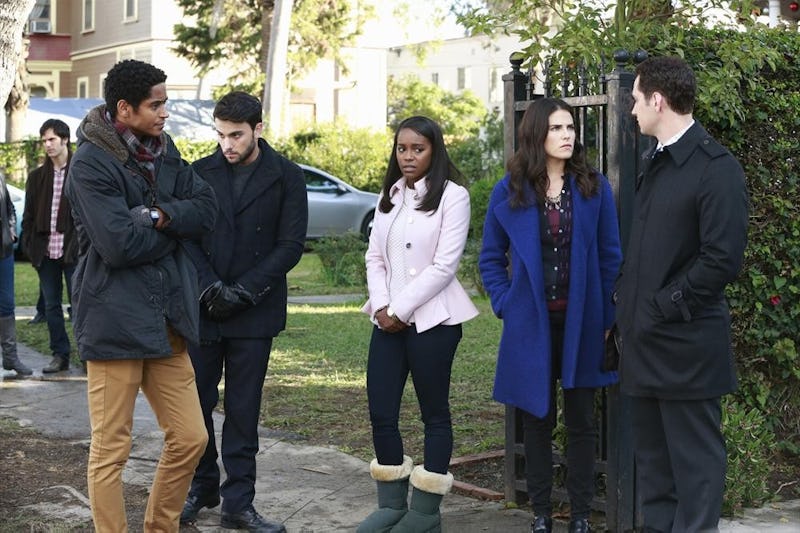 Though the series is only just starting out, it's hard to envision ABC's How To Get Away With Murder without Annalise Keating's five core students made up of Connor, Michaela, Laurel, Asher, and Wes. Viola Davis may have started out as the show's only shining star, but now that we've gotten to know these other charismatic cast members, their presence seems just as pivotal for the show's continued success. But does Shonda Rhimes still intend for them to stick around next season? I spoke with Karla Souza, who plays Laurel, to discuss such important matters and whether or not fans can expect to see the Keating Five return for HTGAWM Season 2.
"I don't know, I hope!," the actress tells Bustle, admitting that they've all contemplated what will become of their characters when Annalise's class eventually comes to an end. "From Episode 1 we were all studying the fact that Criminal Law is normally almost just for one semester. And so we thought, 'Oh no, is there going to be new students in the next semester?'" That's a fair assessment to make, given that no class can really go on forever, unless there's a How To Get Away With Multiple Murders advanced class we have yet to know about, which seems unlikely.
So where does that leave our beloved cast of characters? "You never know on network TV, especially with Pete Nowalk and Shondaland and all of that," Souza teases. "We could all disappear in a second." Thankfully, we already know that Davis is definitely returning for Season 2, but will it be with a brand new batch of students? I have a hard time believing that will be the case.
Sure, nothing has been confirmed about the Keating Five's fate either way, but they've become such a monumental part of the show's dynamic that I can't imagine Rhimes not including them. Plus, it's not like the writers would have another round of students accidentally murder someone and try to cover it up, right? That would just seem repetitive. This show and these characters have way more to offer than that.
So while they may not remain her students the entire time, I'm more than confident that their storylines will still manage to be intertwined with the main plot. After all, the cast that kills together, stays together… or, you know, something like that.
Images: Mitchell Haaseth/ABC; Nicole Rivelli/ABC; Giphy