FLOWER's New Collection Is Delightful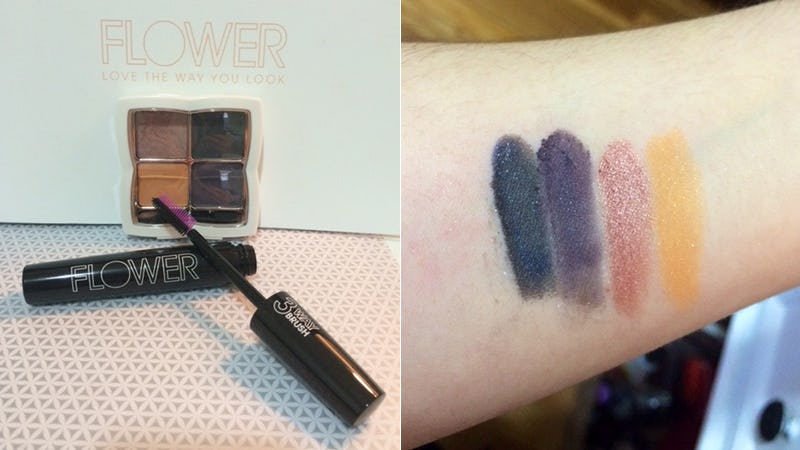 Though thousands of beauty products debut each year with claims of multitasking ability, staying power, and ease of use, only a handful make good on their assertions. Drew Barrymore's FLOWER Beauty actually creates products that live up to their promises, and as an added bonus, each item is a delight to use. As a mother of two and a triple threat professional with winemaking and acting gigs to supplement her thriving beauty business, Barrymore knows the power of well-made hero products to get a career-driven woman polished and out the door in minutes. However, even professionally driven women need a bit of whimsy in their lives, and FLOWER Beauty's spring collection includes selection of richly pigmented eyeshadows and lip lacquers fills the quota admirably. Amidst her full schedule of work, play, and family, Barrymore took the time to outline her favorite products from the line and explain her makeup modus operandi.
Though the line provides a plethora of beautiful products, Barrymore told Bustle she's especially drawn to the collection's eye and brow products. FLOWER's Outstretched Lengthening Mascara ($7.98) is one of Barrymore's personal treasures, creating what the actress dubs an enviable "elongating" effect on lashes. Barrymore insists that even those with sparse lashes are bound to fall for the innovative formula. Next on Barrymore's docket is FLOWER's Take A Brow Complete Brow Kit ($9.98), which gives arches a more defined and groomed appearance thanks to Brow Taming Wax and three shades of Brow Powder per compact.
The Shadow Play Eyeshadow Quad in Dusk 'Til Dawn ($9.98) is equally entrancing, with four shades of silken powder per compact, some shades more daring than others. Barrymore herself loves to pair a taupe eye with rich, deeply pigmented lips for a standout look. Those who desire a more standout look will be pleased with FLOWER's That's So Kohl! Kohl Eyeliners in Electric Volt and Illumin-eye-zer ($7.98) which blends into the eyelid with a blendable texture but refuses to budge.
For those looking to hide the inevitable physical signs of lack of sleep or an unwelcome breakout, FLOWER'S Hollywood Secret Concealer Kit ($12.98) allows consumers to customize their shade with a green-based color-corrector, primer, and two creamy, blendable colors. Perhaps one of the brand's most intriguing new products is the Transforming Touch Powder-To-Creme Blush in Tickled Pink ($12.98), which possesses the ability to melt flatteringly into the skin from a powder form for a healthy glow.
Barrymore must have had a bit of fun concocting her Spring lip shades, as each Lip Radiance High Shine Lip Lacquer in Cherry-O! ($7.98) appears destined for a night of drinking and dancing, as does the Kiss Stick High Shine Lip Color in Cactus Flower ($6.98). It is rare to find high-quality products at a low cost, but whatever Barrymore's formula, she has aced the cosmetics category.
Images: Tyler Atwood