Emma Watson's New Movie Includes An 'HP' Reunion!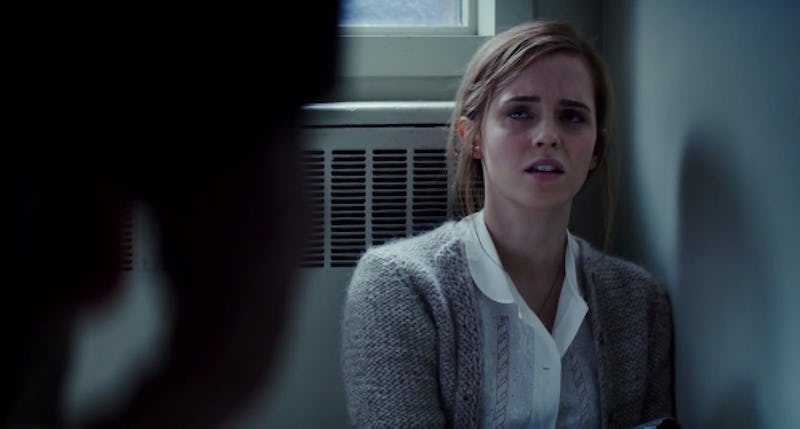 She's gearing up right now to take the world by storm as Belle in a live-action remake of Beauty and the Beast — but, in the meantime, Emma Watson's starring in Regression , which is...well, it's markedly different. And now that Regression 's first teaser trailer is here, we can see that it might just be the scariest thing Watson's ever starred in. Bling Ring eat your heart out, this movie's about to freak us all out.
Regression, which also stars Boyhood's Ethan Hawke, is a thriller from Alejandro Amenábar. Former Remus Lupin actor David Thewlis is also in the film (mini Harry Potter reunion!), which takes place in Minnesota in 1990, with Watson as a young woman named Angela who "accuses her father of an unspeakable crime" and Hawke as the detective investigating the case. Thewlis plays the psychologist brought into mine Angela's father's memories and discover what happened. And, yes, the trailer makes it seem just as creepy as it sounds — in fact, it's even moreso, considering Watson's "they'll kill you too" and Hawke saying that he feels like this case is "part of something bigger."
Yep, this movie is definitely already wigging me out big time, especially given how freaking terrifying this old lady is:
And did I mention the BASEMENT FULL OF CLOAKED STRANGERS?
Oh god.
WHAT IS HAPPENING.
You can watch the teaser for yourself below:
Image: Universal Spain/Youtube