How to Feel Beautiful Again After A Health Scare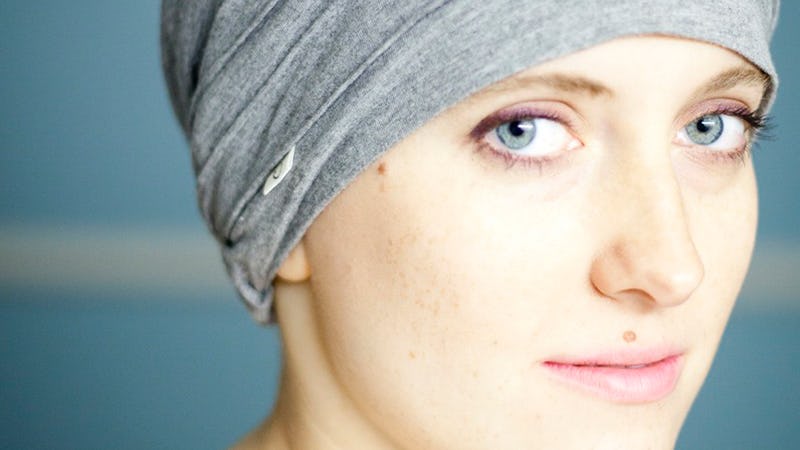 My best friend was diagnosed with osteosarcoma when we were both 24, a little over a year ago today. This often life-threatening type of cancer affects mainly young people, which, in my opinion, made it even more unfair and difficult to handle. It started by forming a tumor in her knee and within a few months it spread to her lungs, requiring months of chemotherapy, a full knee replacement and (because hers was a metastatic osteosarcoma) and the chance that she might need a pretty terrifying lung surgery to remove the cancerous cells in her lungs.
My friends and I, in our attempt to console her and show our support, were quick to turn her into a sort of cancer martyr. We continually told her how strong she was and, once the chemo was over and she (thankfully) beat her disease, attempted to talk to her about how her attitudes toward life had changed, how she thought she would do things differently. We were trying to be inspiring, but we were kind of exhausting her.
During my friend's chemo, my mom nominated her to receive a cancer-related gift basket from a local nonprofit that aims to provide help to women affected by the disease. The group contacted me to ask me what types of things she might be interested in receiving — books, anti-nausea medicines, perhaps a blanket to wrap around her dry skin and deteriorated bones as she recovered from chemo?
"Tell them to just make me feel fucking pretty again," she told me when I asked her what she would like. I was shocked, but eventually I just felt stupid. While I was busy worrying about how sad my life might be like if we were to lose her, I never stopped to think about how it actually made her feel to inhabit her body at that time. She lost her hair, of course, but she often wore a wig and honestly, she looked absolutely radiant to me just because she was alive and so positive through the whole experience. But despite my opinions, she didn't want self-help books or a journal to remember this terrible, awful time; she wanted makeup from Sephora and a LUSH bath bomb to distract her and make her feel normal again.
It's a strange and often glossed over topic in the greater scheme of things, but for many young women affected by cancer or other life-threatening diseases, their looks are a concern for almost no one but themselves. No matter how much we assured her that she looked beautiful and brushed off her apologies about her lack of makeup or her three-day-old pajamas when we visited her at the hospital, we never really stopped to think about how shitty she actually felt about her appearance. Rather than offering constant positive words of encouragement, it may have been a whole lot less exhausting and more immediately gratifying to help her do her makeup, to paint her nails, to do something vain and brainless and distracting for a few minutes a day. While her body was revolting against her from the inside, it probably would have really helped her to control it as much as she could on the outside.
There's nothing wrong with combining your heavy, emotional support with a few silly beauty routines, pouring over fashion magazines and pumping each other up when you're feeling down about your looks. These are things that only girlfriends can do together, and that shouldn't change after a health scare.
Once her chemo was over, my friend complained about the new body that she now inhabited — the one that had been bedridden for months, contained a slew of metal pieces in its leg and generally looked a bit worse for the wear. She felt out of shape and entirely out of practice with her usual beauty routine, and I could tell that she also felt guilty for having these seemingly vain, dim-witted thoughts. No matter how much I told her that she looked perfect to me, the only thing that seemed to make her really feel better was to tell her that we could eventually go to gentle yoga classes together, that we would soon go for a walk around the city and cuing her in on a great pair of ultra-slimming, high-rise black jeans that I bought.
You know that working out or getting a great new haircut makes you feel healthy and beautiful in your average life, so why wouldn't those things have the same effect after surviving a life-threatening disease? Don't shy away from talking to a sick friend about her beauty insecurities, because it just comes off as phony and insensitive. Acknowledge her complaints, treat them as just as valid as you would her fear for her life or her physical pain, and most importantly, brainstorm ways that you can work together to make her feel good again. Her survivor spirit and her inner strength make her look beautiful to you, but spending the afternoon talking about the latest episode of Master Chef Junior while painting each other's nails has its own healing properties that are nothing short of magical.
Images: Courtesy Kelly King