4 Pretty Makeup Looks For V-Day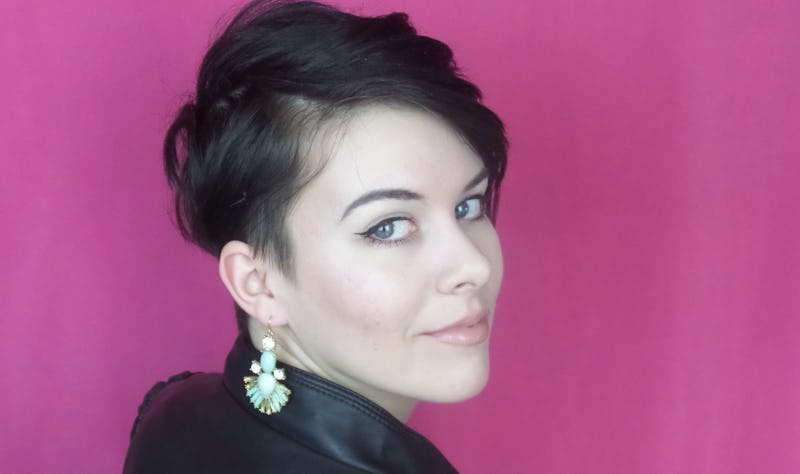 Ah, yes. Valentine's Day is fast approaching. It's likely you already have your February 14th sorted, whether it be a date with your beau, drinking entire bottles of wine with your friends, or contentiously objecting the entire freaking holiday — but what should you wear on your face? Valentine's Day makeup can easily veer into cheesy territory (sorry, Pinterest, I'm just not painting my lipstick into the shape of a heart), but there are ways to add a hint of pink without looking like Cupid tackled you on the way out the door.
If you know what you're doing this Valentine's Day but need some makeup ideas, look no further. From spending the night in to going out on a fancy date, from #nomakeupmakeup to the complete opposite, there's an appropriate beauty look here for everyone's plans and preferences. Oh, and don't worry: I've got you covered with product recommendations and application tips too, so you'll look totally flawless without breaking a sweat on the 14th.
Let's get started! Below are the five products that I use almost every day for a natural, no-makeup makeup look.
I used this as the base for all of the following looks. It consists of MAC Face & Body Foundation in N1 (which is slightly sheer and dewy), NARS Radiant Creamy Concealer in Vanilla, e.l.f. Eyebrow Kit, Ulta Super Stretch Fiber Mascara, and NYX Retractable Lip Liner in Nude — but you can sub in your own favorite products, of course.
Here's this basic look on me (with a bit of clear gloss added on top of my lips):
After you have your base (such as foundation or BB cream or whatever) the fun really starts. Here's four different ways to do the rest of your makeup, based on how fancy your Valentine's Day is going to be.
Date #1: A cozy night in.
Whether you're snuggling on the couch with your significant other or your beloved pet, there's nothing wrong with wanting to make yourself look extra pretty while Netflix-bingeing. I went with a soft, all-pink theme for this look.
I used Perricone M.D. No Blush Blush and No Lipstick Lipstick for a natural rosy glow on my cheeks and lips. (You can blend the blush with your fingers.) Then I blended the three palest pink shades from my Urban Decay Naked 3 palette on my eyelids: Limit all over, Dust in the inner corners, and Burnout all over the top.
Throw on a soft pashmina and a sweet fragrance like this Vanilla Aroma Roll-On, and whoever happens to be sharing the couch with you is going to think themselves very lucky.
Date #2: A casual day date.
Whether you're getting coffee, spending the day at a museum, or walking around the park people-watching, the day date is severely underrated. To do your makeup for this, steer away from anything that looks too harsh in the light of day and towards something fun and flirty. A cat-eye and nude lips looks great for any activity, and will serve you just as well if the date happens to continue through to the evening.
I used my trusty Stila Stay All Day Liquid Eyeliner for a cat-eye that won't budge, and Wet 'n' Wild Lipstick in Fergie Daily for my lips because I'm all about that budget lipstick.
Big dangly earrings continue the '60s vibe, and an offbeat perfume like TokyoMilk Dead Sexy will intrigue everyone around you.
Date #3: Movie date.
I won't judge you if you're going to see 50 Shades of Grey this Valentine's Day. Even if you're not into it, it seems like a great movie to hate-watch with a bunch of friends, or to drag your partner to if they've been pissing you off lately. I suggest a bold lip for the movie date (although not if you're planning to make out in the dark theater the entire time). I picked two bold, matte lip colors that basically scream VALENTINE'S DAY.
Wet 'n' Wild Megalast Lipstick in Think Pink is the perfect bright pink that's flattering on almost everybody.
If classic red is more your style, Revlon Colorburst Matte Balm in Striking is a perfect true red; it doesn't lean too orange or too blue.
Whichever bold lip you choose, make sure to add a dash of Dirty Perfume by Lush on your wrists and other pulse points. I mean, is there a more aptly-named perfume for a 50 Shades viewing?
Date #4: Dinner at an upscale restaurant.
Time to break out the big guns. For me, that means Tom Ford perfume, a smoke\y eye, and maybe even a dramatic lipstick.
For my smokey eye, I lined my eyes with Urban Decay 24/7 Glide-On Eye Pencil in Demolition. Then I opened my Naked 3 palette and dusted the matte dusty pink shade Nooner all over my lids, the shimmery bronze Factory in the crease, and the darkest shade Blackheart at the outer corners. Blend well with a brush, but don't be afraid to use fingers to make it a little smudged. I also like to smudge Blackheart under my eyes a bit as well.
Here it is with a nude lip (my NYX Lip Liner in Nude again):
And here it is with really dramatic, dark lips (Topshop Lipstick in Depth, a dark purple):
The second version is a little more goth, but I'm into it. Perfect for an anti-Valentine's Day dinner, if that's more your style.
Oh, and don't forget to spray on slightly too much Tom Ford Black Orchid. You'll have men and women falling at your feet all night long.
Images: Kelly Dougher