I Spy: Get The Look Of History's Most Mysterious Women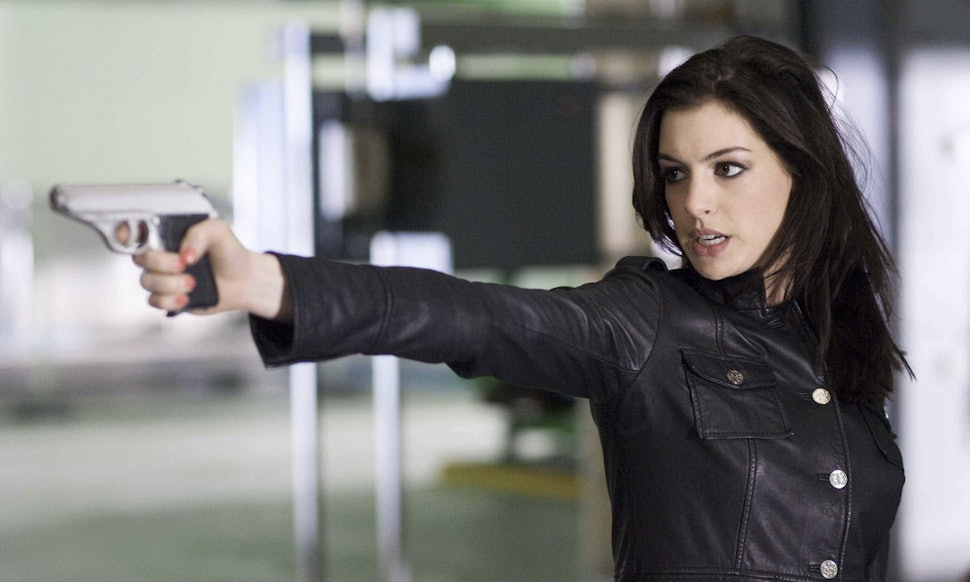 Is there anyone cooler than a lady spy? I think not. There are a lot of reasons why the women in this slideshow are amazing, but you know what they all have in common? Some seriously amazing all-around beauty know-how, from flawless hair, to perfectly penciled lips, to luxuriously long lashes (or all of the above). While they may be known for being secretive, Bustle and Rimmel London are here to expose the how-to's of their most coveted beauty looks.
Read on to see some of history's very coolest spies — and how to get their signature looks!
Josephine Baker: Master Performer And Ingenious Informer
Josephine Baker was a dancer, singer, actress, and — you guessed it — a pretty kick-a** spy. She actually smuggled military secrets for the French Resistance during World War II using the backs of her sheet music. Ingenious, right?
Image: French Walery/Wikimedia Commons
Get Josephine Baker's Long Lashes
Her career was at its peak in the '20s and '30s, and her beauty look reflects this — for Ms. Baker it was all about the eyes. She had Betty Boop-worthy lashes that were attained through multiple layers of mascara — be sure to shake the brush slightly with each stroke to avoid any clumping — and perhaps enhanced with false lashes (only Josephine knows!).
We recommend Rimmel London Wonder'Lash Mascara with Argan Oil to enhance your lashes to their full potential and encourage them to grow longer through its Argan oil-enhanced formula.
Image: French Walery/Wikimedia Commons
Sydney Bristow: Master of Disguise
Ah, Sydney Bristow: When it comes to the a**-kicking women of TV, few are a match for our favorite English graduate student/double agent. She really was quite the force to be reckoned with — over Alias' five seasons, she had a whopping 41 confirmed kills.
Image: Screengrab/ABC Networks
Get Sydney Bristow's Sheer Pink Lips
One of Sydney's trademarks was her revolving door of ultra-fab wigs and makeup looks, but her natural look was pretty darn gorgeous as well. Steal her everyday look with a simple, sheer pink lipgloss— Alias did take place in the early 2000s, after all… and where would any self-respecting 2000s leading lady be without her gloss?
We recommend philosophy's Raspberry Sorbet Lip Shine because it's sheer enough to be perfect for the occasion.
Image: Screengrab/ABC Networks
Mata Hari: The Iconic Femme Fatale
Any list of female spies must begin with the iconic Mata Hari. Though originally born Margaretha Geertruida Zelle, she adopted her iconic stage name in the early 1900s as she began to become famous for her prowess in exotic dancing. A prominent French courtesan, she was found guilty of being a German spy and executed by firing squad in 1917. With modern scholars still debating whether she was framed, Mata proclaimed her innocence and even refused to be blindfolded at her execution.
Image: Unknown/Wikimedia Commons
Get Mata Hari's Bold Brow
Mata Hari's beauty game was seriously on point, and she was already working the Brooke Shields/Cara Delevingne power brow a century ago.
To create your own bold arched brow even if you weren't born with a generous pair, we recommend a two-in-one brow set that combines the control of wax with a highly pigmented powder that will fill in any areas where you feel a bit sparse. For a bold brow look like Mata Hari's, don't be afraid to color outside of the lines– the combination of the wax and powder will provide a natural look if well-blended so don't fear a bolder look.
We recommend New York Color's Browser Brush-On Brow Kit to give you espionage-worthy brows.
Image: Unknown/Wikimedia Commons
Marlene Dietrich: German-Born American Spy
Even on a list filled with icons, it doesn't get much more fabulous than Marlene Dietrich. When she wasn't busy killing it in menswear or singing up a storm in some of the biggest pictures of the time, she was doing some undercover work as a spy for the Americans during World War II (I know, and you thought she couldn't get any cooler).
Image: Kaho Mitsuki/Wikimedia Commons
Get Marlene Dietrich's High Cheekbones
First and foremost, you'd probably want to reach for a cigarette and an immaculately-tailored suit, but when it comes to her beauty style, it's all about the cheekbones. Not all of us are so blessed, but you can always step up your bone structure game with some carefully-placed bronzer. Put away your humility and suck in your cheeks (yes, make a fish face). Then apply bronzer to the hollows right beneath your cheekbones and blend, blend, blend.
We recommend Rimmel London Natural Bronzer to emulate Marlene's dramatic look.
Image: Unknown/Wikimedia Commons
Greta Garbo: Undercover Hollywood Starlet
Greta Garbo once portrayed Mata Hari on the silver screen — but they had more in common than just some costumes: Garbo, too, was a spy — she worked for MI-6, and helped to round up Nazi sympathizers for Britain (how did all of these people become so darn awesome?).
Image: Unknown/Wikimedia Commons
Get Greta Garbo's Lined Lip
To steal her look, you're going to want to start with some major lip liner, to get that perfectly sculpted lip shape juuuust right. Just be sure to "exaggerate" and that line a little by lining right outside of the lip line and pressing hard enough on the liner to ensure that the line is bold.
We recommend Rimmel London Exaggerate Automatic Lip Liner in Rich as both a high-impact and budget friendly choice. Importantly, it's also non-drying.
Image: Unknown/Wikimedia Commons
Mrs. Smith: Dangerous Housewife
Angelina Jolie's stint in Mr. & Mrs. Smith may be most famous for being the start of Brangelina (and end of Brad Pitt's storied relationship with Jennifer Aniston), but it was also a pretty darn fabulous movie — after all, who doesn't want to see Brad and Angelina go all spy vs. spy on each other? Especially when it happens to come with crazy gun shoot-outs and steamy sex scenes…
Image: Screengrab/Twentieth Century Fox
Get Mrs. Smith's Neutral Pout
Most of the ladies on this list favor a high impact lip, but with Jane Smith, it's all about the nude lip — so if you're looking for a Jolie-inspired lip, look for that ultra-classic/classy nude shade. Paired with a neutral liner and dabbed with tissue, this look is subtle enough to look completely natural yet pretty enough to seduce the likes of Bradd PItt.
We recommend New York Color City Proof Twistable Intense Lip Color in Nolita Neutral which is a great shade for all of you bolder folks, while the same product in Brooklyn Brownstone is another workable option for those who don't love nude lipstick but want something similarly neutral and modern — or, you could always grab both (because at under $3, why not?).
Image: Screengrab/Twentieth Century Fox
Agent 99: Mysterious Spy in Black
Did you ever see the Steve Carell remake of Get Smart? Anne Hathaway here played Agent 99, a mysterious lady spy who was ever the consummate professional (the natural counterpart to Carell's bumbling Maxwell Smart). Basically, she was the HBIC, and her beauty game reflected that in a major way.
Image: Screengrab/Warner Bros. Pictures
Get Agent 99's Smokey Eyes
There were a lot of things going perfectly right with her makeup look, but most notable of all was her flawless high-impact eyeliner. To steal her look, you're going to want something that's not going to budge, come hell or high water (you're going to need it if you want your lower lashline to keep from smudging during a high-speed chase).
We recommend Rimmel London Scandal'eyes Kohl Kajal as a budget-friendly liner for the job.
Image: Screengrab/Warner Bros. Pictures
Hedy Lamarr: Beauty and Brains
Hedy Lamarr was a lot of things: Not only was she a ridiculously beautiful Golden Age movie star, but she was also a world-class inventor — she invented an anti-jamming device for torpedos that helped the American military in a major way during World War II. Incidentally, it also happens to be the very technology that makes modern-day staples like Wi-Fi and Bluetooth possible — it's hard to believe she came up with it way back in the 1940s (talk about ahead of her time).
Image: Wikimedia Commons/Unknown
Hedy Lamarr's Signature Red Nails
Like the rest of the ladies on this list, she was basically flawless. She obviously has a lot going for her, but her nails were particularly fab — so if you're looking to her for beauty inspiration, it might be time to pull out the classic red nail polish.
We recommend OPI's Chick-Flick Cherry to get the perfect shade of deep red.
Image: Wikimedia Commons/Unknown
Bridget von Hammersmark: Inspired By Greta And Marlene
Bridget von Hammersmark actually recalls a lot of the women on this list — as a movie star/German spy for the Allies her story mirrors that of other star/spies like Greta Garbo, Marlene Dietrich and Mata Hari. When it comes down to it, she was a stone-cold badass in Inglourious Basterds — like the spies her character was inspired by, she used her status as a movie star to make her masquerade as a spy more believable, and in turn used her considerable social influence to navigate Operation Kino, a plan to blow up Hitler and all of his top-ranking men.
Image: Screengrab/The Weinstein Company
Bridget von Hammersmark's Matte Red Lips
She did this all, of course, while staying impeccably dressed with an even more impeccable matte red lip. If you're a fan of her retro red, give the Rimmel London Kate Moss Lasting Finish Lipstick in #1 a try — it's one of those universally flattering shades that has just the right of timelessness to it to be truly cool.
Image: Screengrab/The Weinstein Company