Say Happy Valentine's Day With Marijuana Bouquets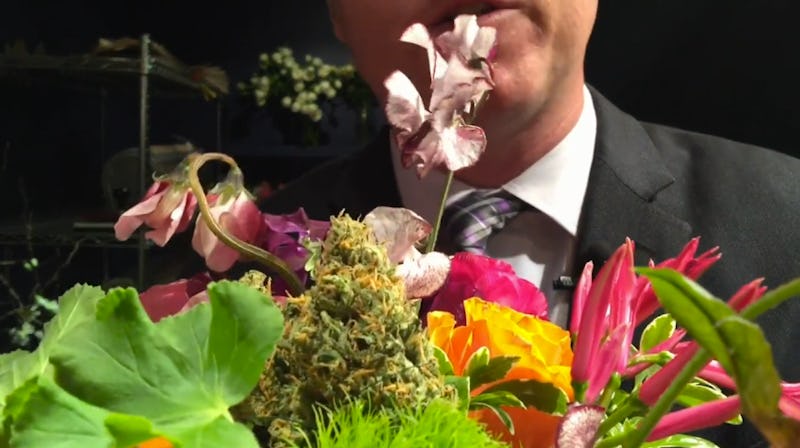 Colorado couples might have the most mellow Valentine's Day ever this year. That's because florists in the state, where recreational marijuana has been legal since 2012, are now offering marijuana bouquets for Valentine's Day. It's one of those ideas that one might have first dreamed up when they were, well, high, but it also makes perfect sense. Cannabis is a plant and can make a fetching accent piece to flower bouquets, and for Colorado couples who partake in it, there's no better way to say "I love you" than with pot.
Cindy Ollig, who owns the floral shop The Perfect Petal in Denver Highlands, described the process of ordering a pot bouquet to USA Today:
We just work with you to come up with something really beautiful that you like, an arrangement, and we select colors and put the design together, and then we'll artistically place the bud into the arrangement so that it looks gorgeous.
On Wednesday, The Denver Post published a guide in its Cannabist section on Colorado florists trying the trend, and it's clear that incorporating buds into bouquets is a serious art form. Ollig, whose shop was featured in the guide, told the paper:
It's just kind of cool how the bright greens of the plant and buds go so well with fuchsia and hot pink tones. Marijuana just kind of naturally lends itself to a perfect Valentine's Day palette. Plus, there's so many different strains now. A lot of them are so delicate and beautiful and really work well with floral composition.
However, she recommends restraint and not letting the weed overpower the flowers.
One nice bud is plenty to make a statement — any more than that is just overkill.
Why? "Because the smell is so overwhelming," Ollig told USA Today.
I'm sure the question on everyone's mind right now is "Can you smoke it?" Well, it wouldn't make for much of a gift if you couldn't, right? According to the Post, the buds are the same ones you'd roll into a joint and light up. However, in accordance with the state's laws, the customer must obtain the bud themselves and provide it to the florist. Once the bouquet is ready, the customer must go to the store to pick, since the law prohibits the florist to deliver cannabis products.
These marijuana-laced bouquets have been around for quite some time now, and when it's not Valentine's Day, Colorado couples are ordering them for their weddings. Another Denver Highlands floral shop, Plum Sage Flowers, was the first to be reported offering the smokable flower bunches when it made a bouquet for a couple who wed this past summer. Owner Erin Hornstein told the Cannabist:
It was fun and gorgeous, but this isn't something we're specifically aiming to do.
However, over in Centennial, Colorado, flower shop Buds & Blossoms does specifically aim to incorporate Mary Jane into its flower arrangements, and has also been doing so for weddings. Owner Bec Koop told the paper:
I was cutting down my own (marijuana) plant and had some extra flowers from an event laying around. I sort of had this "aha" moment where I realized there was this perfect fusion of the two.
I'm not going to assume that by "aha moment," she was referring to being high, but some of the best ideas people have had were formed while smoking the ganj. On a more serious note, Koop commented on how this new tradition reflects America's perception of marijuana.
It's really exciting to bring this new theme of freedom and legalization into the wedding industry. I'm planning on expanding to daily bouquets for customers in the next year.
For now, if you live in Colorado, you can inquire about marijuana bouquets at any of these shops, but hurry because Valentine's Day is literally around the corner. Or, if flowers aren't really your thing, there's always that other popular gift, chocolate. I'm sure you can imagine the marijuana possibilities there, Colorado.
Images: USA Today/Screenshot, Buds & Blossoms