Taylor Swift and Karlie Kloss Cover March 'Vogue'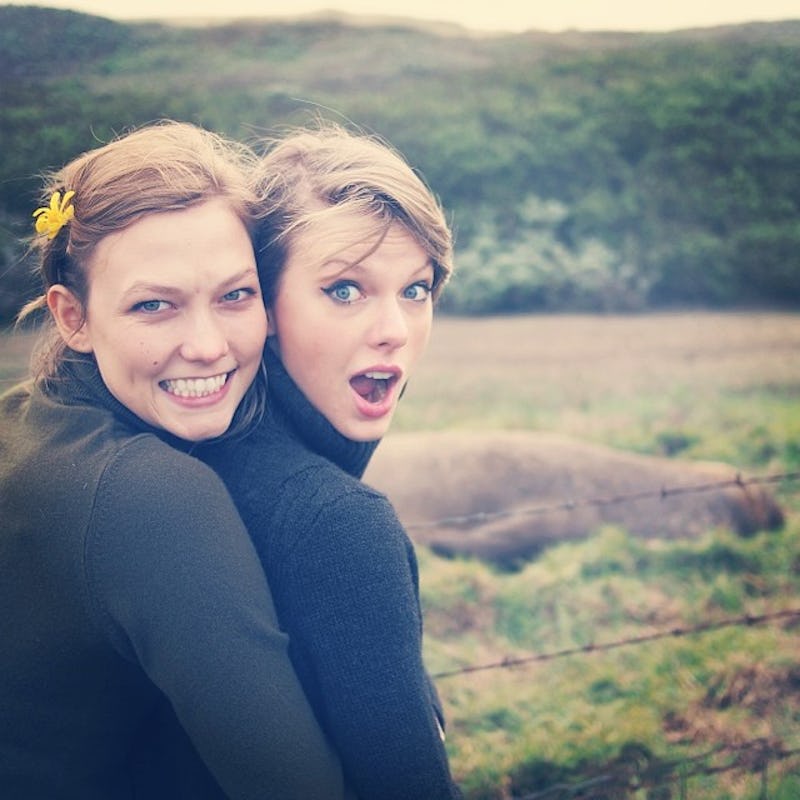 Guys — remember when everyone started wondering if professional BFFs Taylor Swift and Karlie Kloss would get the official Anna Wintour stamp of approval? Well, great news — THEY ARE!!! That's right, Taylor Swift and Karlie Kloss cover Vogue 's March 2015 issue together, because that's what famous best friends do when they get tired of baking cookies.
Besides the cover, which features the blonde ladies hugging while wearing boho-inspired couture, theres a lengthy article about their friendship and an adorable shoot. The fashion pics show Kloss and Swift doing typical best friend things together, like taking polaroids while driving a corvette, walking out of a trailer in white princess gowns, playing the guitar, and baking together. Which, for them, is pretty much a typical weekend.
Swift and Kloss reportedly first met at the December 2013 Victoria Secret Fashion Show, where Kloss walked and Swift performed. Prior to that, however, Swift had mentioned in a Vogue interview that she wanted "to bake cookies" with the mega model. Naturally, Kloss accepted her invitation via Twitter and the rest is history. Now the duo takes roadtrips over the California coastline and drink beers together at Knicks Games.
But could anything solidify their friendship more then landing a major magazine cover together? I don't think so. For the full feature, well, you're just going to have to buy the issue yourself (then probably frame it, like I plan to do).
Images: Karlie Kloss/Instagram; Vogue