How To Make DIY Decoupage Candles For Valentine's Day, Because Who Doesn't Love A Little Candlelit Romance?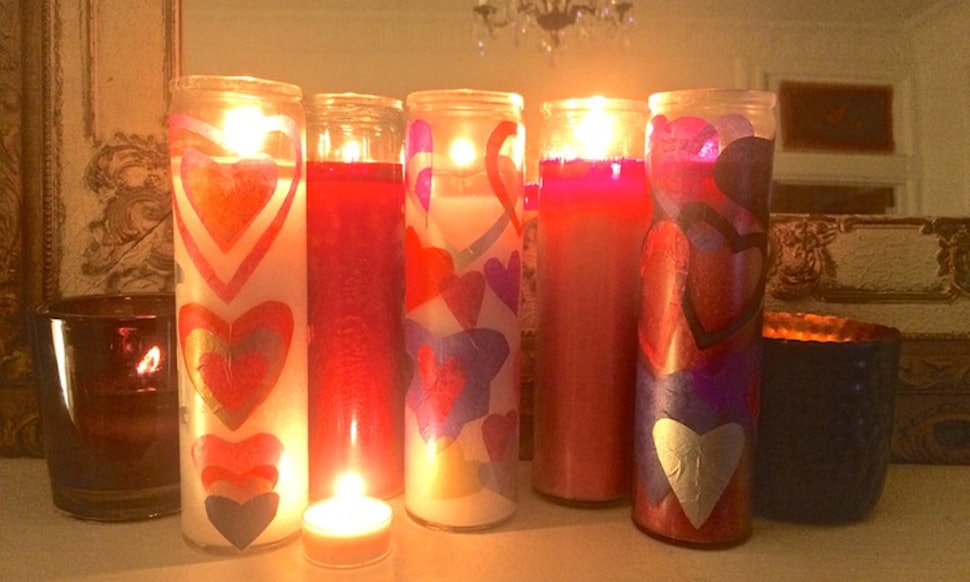 Whether you're ready for it or not, Valentine's Day is upon us, y'all. Be still our beating hearts! It's the one day of the year when romance trumps all, and what's better than candlelit ambience to amp up the romance? A few decoupaged bodega-bought candles will set the mood so right.
Cheap glass pillar candles can be easily decoupaged to create love lights designed to get that special someone's heart racing. Here's how we did it in just a few simple steps.
Images: Allegra Muzzillo
Step 1: Gather
Grab some tissue paper in multiple shades, several generic dollar-store candles (any colors), a paintbrush, and Mod Podge — and get started.
Step 2: Create
Every single person on this planet pretty much has the ability to make paper-heart cutouts. (An inherent trait?) Fold paper in two and commence snipping. Create as many as your heart desires.
Step 3: Apply
Pour out some Mod Podge and use it to affix hearts directly onto the candles' glass containers. We chose Mod Podge that dries to a matte finish, but it comes in tons more fun formulas.
Note: As you probably know, tissue paper is delicate. It also has a tendency to run and rip apart if you manipulate it too much. Paint some Mod Podge onto bare glass, and then apply dry paper hearts. Give the slightly wet heart a light once-over to finish the job. This process all but prevents the tissue paper from bleeding and tearing.
Step 4: Dry
Wet Mod Podge makes any surface look like a hot mess. Don't worry! It will dry to perfection, even if you've overlapped it in spots. Plus, a slightly textured finish makes it look arty and all the more customized. Let your creations air dry until they're absolutely dry to the touch — about 15 to 20 minutes.
Step 5: Light 'Em Up
Strike a match and set the mood. Once wax burns down a bit, the flickering light looks even prettier, and creates cool, stained glass-like transparency. Plus, these babies will definitely last… all night long.