Shop Ana's '50 Shades of Grey' Graduation Dress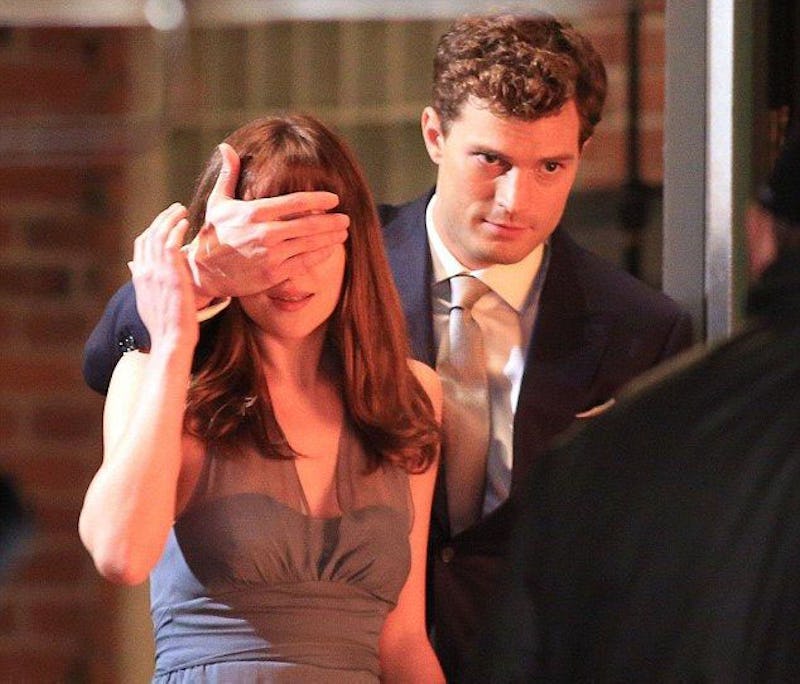 If you went to the midnight screening of Fifty Shades of Grey, then you probably can't shake the images of Jamie Dornan and Dakota Johnson's naked bodies out of your head. And while that's all fine and good, allow me to redirect your memory to one of the gorgeous pieces Anastasia Steele was actually wearing, because in case you missed it, she wasn't nude for the entirety of the film (I know, hard to remember at this point). One item in particular that we absolutely adored: Ana's elegant graduation dress.
Let me set up the scene: Ana wears this dress to her graduation ceremony where, coincidentally, Christian Grey is present to hand out diplomas. Christian meets Ana's dad, Ana accepts Grey's request to be his submissive and then shortly after, he surprises Ana with a graduation present: a brand new Audi A3. Ana's not exactly excited about the gift, rolling her eyes at Grey, which leads to a small argument and results in Grey spanking her. Yeah, I'll just stop there.
The dress is expectedly demure, but still has an element of sexy to it with its sheer illusion straps. It's the perfect dress for any occasion, dressed up to a wedding or paired with a red lip for date night.
Here are 7 ways to steal Ana's graduation look, though I can't guarantee any spanking will come with it.
1. Clara Dress
Although this is technically one of J.Crew's bridesmaid dresses, it can definitely be worn as a stylish cocktail dress outside of a wedding ceremony. (Clara Dress, $119-220, jcrew.com)
2. Celia Dress
The lacy, sheer neckline paired with the cinched waist makes this a super flattering and alluring number. (Celia Dress, $220, BHLDN.com)
3. 'Tatum' Side Drape Chiffon Halter Dress
This Jenny Yoo halter dress is a sexier take on Ana's graduation ensemble, but still feels refined with its romantic, cascading skirt. ('Tatum' Side Drape Chiffon Halter Dress, $175, nordstrom.com)
4. Tevolio Women's Chiffon Illusion Dress
Although this is another bridesmaid gown, it feels a lot like Ana's graduation dress with its soft chiffon detailing. (Tevolio Women's Chiffon Illusion Dress, $64, target.com)
5. TFNC Prom Dress
Don't be fooled by the name of this dress. This lavender number is wise beyond its years and mature enough for any "extracurricular" activity. (TFNC, $64, asos.com)
6. Adrianna Papell V-Neck Chiffon Cocktail Dress
This Adrianna Papell dress may not have any sheer details, but the gorgeous v-shaped neckline makes up for it. (Adrianna Papell V-Neck Chiffon Cocktail Dress, $52, 6pm.com)
7. Keepsake Wide Eyes Lace Trim Dress
If Ana's dress feels a little too dainty for your taste, consider this Daily Look dress as a more exciting alternative. (Keepsake Wide Eyes Lace Trim Dress, $60, dailylook.com)
Images: Universal (2), J.Crew, BHLDN, Nordstrom, Target, ASOS, 6pm, Daily Look