What Can We Glean From The 'Scream Queens' Teaser?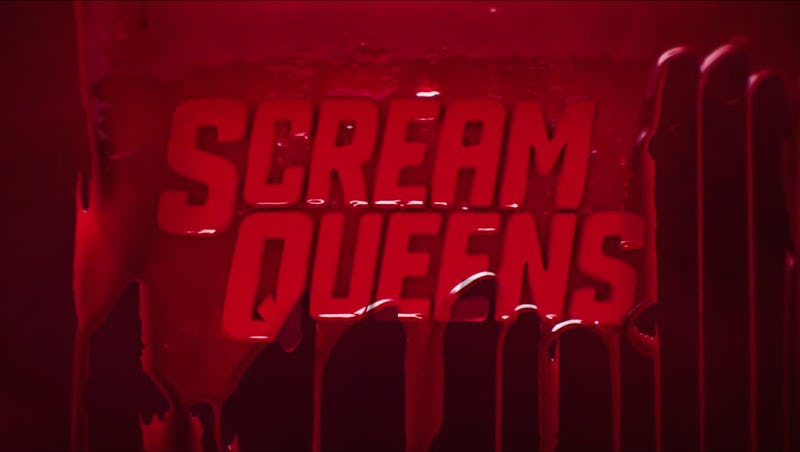 Ryan Murphy is the king of finding the most clever ways to intrigue and entice us into watching literally anything he puts on the screen. The new trailer for Fox's new series Scream Queens is no different. The very idea of Scream Queens was interesting: It was described as American Horror Story meets Glee in an anthology series revolving around a college campus that gets rocked by a serial murders. Murphy and his regular partners Brad Falchuk and Ian Brennan wanted to work together again on something comedic and apparently had a "blast" writing the new series. And despite being only 12 seconds long, the new teaser trailer shows how much fun the series will probably be when it premieres this fall.
The teaser only features one girl with a mouth full of bubblegum in a sweet 16 or sorority mixer-style environment and then morphs into a bloody, frightening mess. So... basically it's exactly what we'd expect from Ryan Murphy mixed with exactly what we'd hope to expect from the anthology series created by Ryan Murphy. After watching the trailer below, here's one important question to ask: What can the teaser trailer tell us or hint to us about the show, aside from the obvious tone? What could it all mean?
Here's a theory. I think it's likely that when the show premieres and characters start dying, a sorority sister could be the main suspect in the murders. The woman's face in the trailer seems to get a little peeved and maybe even a bit evil right before a knife comes rushing down on her gum bubble.
And the blood gushing out of the gum bubble could represent the whole premise of the show: Murders occurring in the strangest, most unsuspecting places, like a sorority house or a college campus filled with women. Even though we don't see any of the actual stars form the series present in the teaser trailer, I really hope that a star like potentially Lea Michele ends up being the murderer in the first season of Scream Queens. Because after playing someone so good, albeit annoying at times, it'd be nice to see Rachel Berry branch out and get a little devilish.
Images: YouTube (screenshot)