Amazing Erotic Art That Challenges Taboos (NSFW)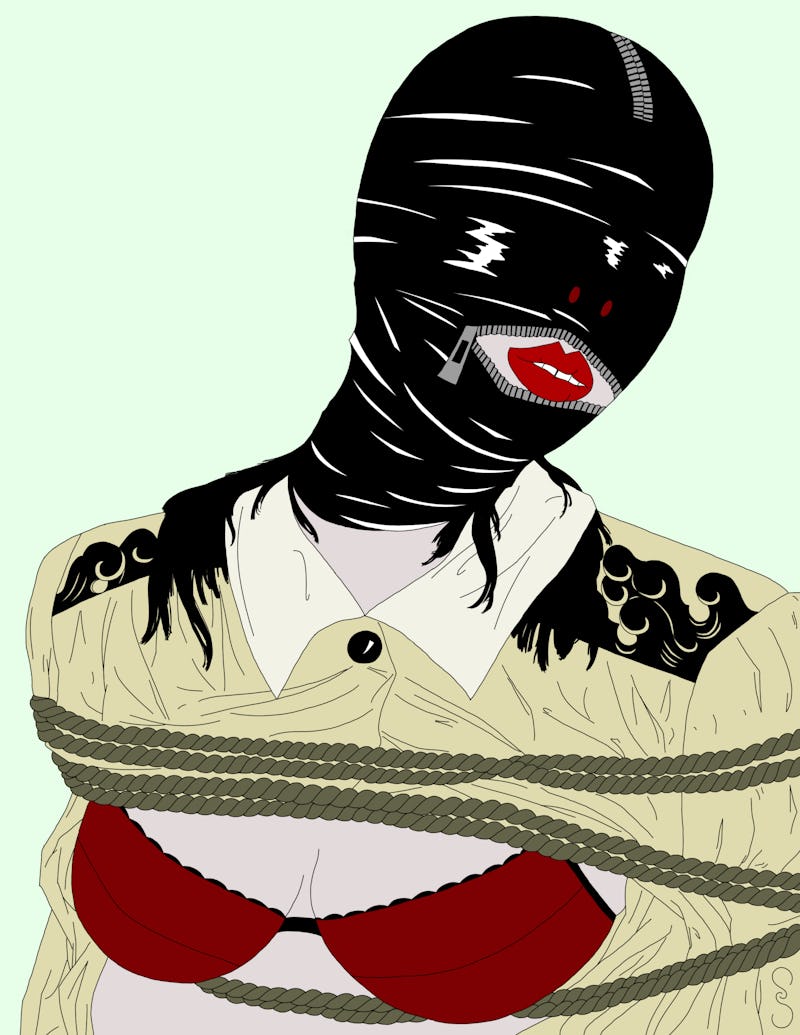 Fifty Shades of Grey may have brought BDSM into the mainstream, but it's artists like Stephanie Sarley and her erotic illustrations that really keep the conversation about it going. At once playful and potent, the Oakland-based artist's pieces are more than just sexy pictures; they're a reminder of just how empowering sex can be — even if BDSM isn't your thing. Awesome? Awesome.
In an email interview with Bustle, Sarley revealed that she was raised in Berkeley, CA as part of a family full of artists. As a child, she was frequently taken along to art shows at venues like the Legion of Honor, MOMA, and the Oakland Museum; as a result, she's extremely interested in art history. Her influences range from French poster lithographs to Japanese woodblock prints, and she includes everyone from M.C. Escher to Arthur Rackham among her favorite artists. She was also, however, something of a rebel growing up: Said Sarley to Bustle, "As a teenager I cut classes to hide in the art room drawing all day, and at night I got into the San Francisco/Easy Bay underground music scene. Slamming cheap liquor and 40 oz., smoking blunts, making out with whomever, and moshing at punk shows until my nose bled. I was a bad girl looking for action."
At 18, she began studying the art of tattooing; after a few apprenticeships and about three years in the industry, though, she left to devote herself to her true passion: Printmaking and fine arts. She took an apprenticeship in stone carving and masonry before studying printmaking at Laney College Oakland; these days she works almost exclusively in digital, which she says "allows [her] to create original works of art along with satisfying [her] printmaking appetite by producing giclees of [her] work for exhibition and for sale." She's also the mastermind behind the adult coloring book Dick Dog and Friends, which was distributed by San Francisco's Last Gasp Books.
Sarley calls the genre in which she works "erotic surrealism." As she puts it:
"My art touches on the absurdity of sex and the primal side of human nature, the empowerment of women and the liberation of male sexuality away from the confines of traditional patriarchal gender roles. Expressing the theme of the duality of pain and pleasure and the wide spectrum of human emotions is a big part of my work."
She's particularly interested in gender theory and global intersectional feminism; recently, she has also begun incorporating her personal study of the art of bondage. "I love the concept of the dominatrix," she told Bustle. "She breaks all inhibitions, giving the submissive a controlled environment to explore their sexuality without boundaries."
And if ever there were pictures that truly spoke a thousand words, Sarley's illustrations are definitely among them. There's so much going on in them, and they make me feel pretty much all the feels when I look at them. Part of what I feel is a little uncomfortable; they're unsettling in the same way that pieces by Salvador Dali and Hieronymus Bosch often are. But you know what? I actually the sense of discomfort is one of the most important feelings that arises from these images. The pieces force us to confront taboos, the sorts of things that are often kept behind close doors — but just the way rooms that have been shut up for years need to be aired out after a while, these illustrations bring all those taboos into the fore. We can't just ignore things that make us uncomfortable and hope that they go away; we have to square with that discomfort ourselves. It's totally on us to process it and move beyond it — because we definitely can't spend our lives sticking our fingers in our ears and going "LA LA LA I CAN'T HEAR YOU" to things that may be outside our realm of experience.
Moreover, Sarley's illustrations are probably one of the most honest depictions of sex and sexuality I've ever seen; as such, they're relevant even if you don't participate in the BDSM lifestyle. These aren't pictures of pretty, Hollywood sex; these are pictures of raw, powerful sex, of slightly cheeky sex, of funny sex (as Sarley noted to Bustle, "I love incorporating humor into my work. Sex can be hilarious." True that), of the fact that there isn't just one single type of sexuality out there. And nor should there be. Different strokes for different folks, the saying goes — and wouldn't the world be such a terribly boring place without it?
Check out more of Stephanie Sarley's work at her website, and connect with her on Instagram (@stephaniesarley) and Tumblr.
Oh, and also? Go have awesome sex this weekend, everyone. You deserve it.
Images: Courtesy Stephanie Sarley