Do Petite Jeans Actually Fit Short People?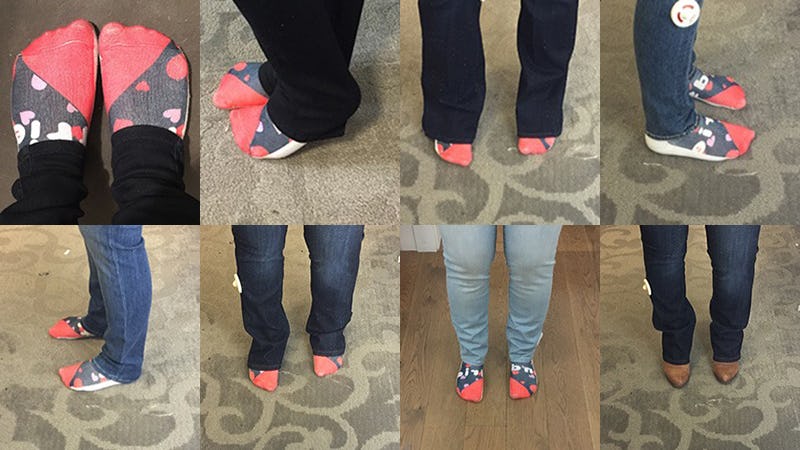 I'm short. At 5'0, I am used to being one of the shortest people in any given room wherever I go (including middle schools). Even when wearing heels, most people still tower over me, and every single person who meets me for the first time assumes I am anywhere from one to ten years younger than I actually am.
A lot of annoying things go hand-in-hand with being a short person. For example, I have to deal with many people resting their elbows on my shoulders because I am "the perfect height" to do so. I can never reach anything on high shelves, so, since I can't physically carry a stool around with me, I always have to ask strangers for help. A lot of people don't take me seriously because they quite literally have to look down at me.
But it's fine, because I accepted my height a long time ago. I didn't really have a choice, considering there is nothing in this world that will make me grow taller. I would take an extra inch or two if I could, but I like being short, and I have learned how to deal with the frustrating little things that come along with it. Okay, most of the frustrating little things. The one thing I cannot get over? My clothing problems.
In general, fashion was made for girls who are the opposite of me: girls who are taller, thinner, and more proportionate. Girls who have long, graceful legs and arms; girls who don't have to wear high heels just to look their age. Because of my short legs and stature, clothes are almost always big on me in some way, shape, or form. I can deal with sleeves that need to be rolled up, dresses that can easily be hemmed to be the right length, and shoulder straps that consistently fall down my upper arms. These aren't my favorite things in the world, but I can deal. What I can't deal with is the denim situation.
Jean shopping, for me, is a nightmare. It's so bad that I try to do it as little as possible, and this is odd for me, because I shop as often as normal people eat. Jeans are always, always too long on me. I'm not talking long in a manageable way where you can cuff them slightly and make them look cute. I'm talking long in the way that jeans could practically double as socks, that's how far down they go. And yes, I know they can be hemmed. But do you know how frustrating it is to tack on $15-$20 extra dollars to any pair of jeans just to make them fit you correctly?
It's a given that regular length jeans won't fit me correctly, because I am not of "regular" height. But what really makes me angry is when even the petite or short length jeans don't fit me. Who are they making these short jeans for? I'm skeptical that many brands know what "short" means. Yes, I know that at 5'0, I am considerably shorter than what some consider petite (5'1", 5'2", 5'3"), but still. It would be more than nice if I could walk in a store, grab a pair of petite jeans in a size 6, and call it a day.
A lot of people don't believe me when I complain about how petite and short sizes fit. And that's exactly why I wanted to show you all how difficult it is for us short girls out here. In an effort to point out how all petite sizes are not created equal, I headed to the mall one weekend to try on a wide variety.
What did I find? Well, first of all, almost nothing fits me, and maybe I'm a little too short for petites. Second, most dressing rooms are disgusting. Third, a lot of employees don't understand "petite" or "short length." When I asked for petite jeans at Bloomingdales, the girl stared at me like I had three heads. When I looked in Forever 21, Uniqlo, J.Crew, Joe Fresh, and Madewell, none of them offered petite or short options at all. And, well, the stores that did... it wasn't great. Take a look for yourself:
Option #1: J.Brand Skinny Leg Mid-Rise Photo Ready, Size 28, $185
Like I said, asking the sales girl at Bloomingdales for petite sizes was not helpful at all. She first directed me to a pair of J.Brand Skinny jeans that she said were "cut shorter." I knew they were regular length, but I figured it would give you guys a good comparison.
As you can see, these jeans are way too long on me, ending in the middle of my foot. I could tuck them into a pair of boots, but that is all they would be good for without a good hem. Actually, though, this isn't as long as some regular-length jeans I've tried on, so... silver lining?
The final verdict: Too long, but not the worst things I've seen.
Would I buy them? Maybe, if I had an extra $200 begging to be spent. These were comfortable and stretchy, which was nice, and there's always the option of hemming them. But for the price, I'd really rather get a pair that actually fit.
Option #2: rag & bone/JEAN Jeans — The Capri In Sonoma, Size 28, $198
The salesgirl at Bloomingdales was determined to sell me a pair of jeans, so she desperately picked out a pair of capri style jeans from rag & bone. Now, look at this link and check out how these capri jeans are supposed to fit. Then look at them on me.
While these jeans are supposed to fit slightly above the ankle, on me, they fit perfectly, like a regular pair of jeans. If I wore these, you would never in a million years know that they were supposed to be cropped jeans. Is this disturbing to anyone else?
The final verdict: I actually really loved these jeans, and I can quickly get over the fact that they're really capri jeans that fit me like regular jeans. They were really skinny on the ankle, which I love, and I could wear these with flats without having to roll them up! Success!
Would I buy them? Yes. Actually, I'm still thinking about going back and getting them. They were comfy, I liked how they looked, and the fit was great for me. If I have to buy cropped jeans in order to get regular jeans, so be it.
Option #3: Paige Denim Hidden Hills Boot Petite, High Rise Boot, Size 28, $169
Finally, there was a light: I found a pair of petite jeans in Bloomingdales! These Paige denim jeans were a petite size, but unfortunately, without shoes, they were still kind of long on me. If I wanted to wear these with flat shoes, it would definitely be a struggle that would end with torn hems. But, check them out with shoes:
Much better! When I wore these with my little ankle boots (which have a very small heel, probably about an inch), they looked almost perfect. If I bought these, didn't hem them, and worse them only with heels, I could get away with it.
The final verdict: I was disappointed in this petite size. I wish that these were a good length without my shoes on. They definitely weren't a total flop, but still. Length aside for a second, though: I was obsessed with these. These are literally the softest and most comfortable jeans I have ever tried on in my life.
Would I buy them? Yes, but only because they were SO soft and comfortable that the way they feel won out of their length. If they didn't feel like a denim version of a cloud, I wouldn't bother, because for $200, I'd rather get a pair that fits better lengthwise.
Option #4: Hudson Jeans Nicole Ankle Skinny, Size 28, $198
Since my petite options were so small, I decided to try on a pair of Hudson Jeans that were an ankle length. Ankle length jeans are typically shorter than regular jeans, and I often wear them when I can't find a short length that will fit me. These, as you can see, were disappointing. Despite their shorter-than-normal length, they were still big on me. The bottoms bunched up in a very unattractive way.
The final verdict: Not into them. They didn't fit well at all lengthwise, and I felt like a freak for not even being able to make ankle jeans work on my body.
Would I buy them? Nope, not worth it.
Option #5: Joe's Bridget Jeans, Petite Bootcut, Size 28, $158
The last pair of jeans I tried on at Bloomingdales were these Joe's jeans, which were actually a petite size. I was excited, and then I tried them on, and it made me want to give up on life a little bit. THESE are petites?! Look how long they are on me!! They're even longer than the regular-length J.Brand jeans I tried on in the beginning. If you think I'm exaggerating, look at these jeans even with a small heel on:
Despite the heel, these are still way too long on me. They're still bunching up, and they would easily drag under my shoes. They look terrible.
The final verdict: These were seriously disappointing. Since Joe's has such a great reputation for jeans, I thought these would be awesome. I was so disappointed!
Would I buy them? Nope. Never.
Option #6: Gap 1969 True Skinny Mid-Rise Stretch Jeans, Size 28s, $69.95
My next stop was The Gap. I'm not the biggest Gap jeans fan, BUT I wanted to give them the benefit of the doubt, and I know they carry short sizes, so I tried these on anyway. I wasn't thrilled with the outcome. They fit, they weren't too long, and they were passable. But still — look at that bunching. Eh.
The final verdict: These were OK. The length was just okay. On a different note, they felt a little big, like they would stretch after one wear.
Would I buy them? Nah. I didn't like that they felt a little big, and if I'm going to get petite, I'd rather they actually fit.
Option #7: Gap 1969 Always Skinny Mid-Rise Stretch Jeans, Size 28s, $69.95
The Gap has a few different short options, so I decided to try on another pair. These Always Skinny jeans fit better than the ones above. They hit at exactly the right spot, wouldn't have to be cuffed, and wouldn't need to be hemmed. Perfect!
The final verdict: These were a great length. If you're looking for a pair of light-wash petite jeans that don't cost too much, these are an awesome option.
Would I buy them? No. Despite the length, I didn't love the jeans, but this is all based on personal preference. I like the ankles of my jeans to be super tight, and these weren't. Also, I hate light washes on myself. They make me look like a mom from the '80s (and not in a cool, retro way).
Option #8: Express Stella Jeans, Skinny Ankle, Size 6, $79.99
I was optimistic about these jeans, because my go-to pair in regular life is actually black Express Ankle jeans. I have two different identical pairs because they fit so well and look so great. So, I figured these green, almost cargo type of jeans would fit in a similar way.
Uh, no. The length is great! But the size was not. The 6 was too big on me, which is weird, because I'm always a 6 at Express (they didn't have a 4 I could try on). The tag said they were skinny jeans, but as you can see, they were pretty baggy.
The final verdict: Not impressed. Sure, the length was great, and I guess for this post, that's all that matters. But everything else about them didn't thrill me.
Would I buy them? No. If they were my black skinny ankle jeans? Definitely. But this cargo version wasn't good.
Option #9: Express Stella Jenas, Legging Low-Rise, Size 6s, $79.99
I gave Express one more chance with these Legging jeans, and I probably shouldn't have. These were a short length, but they were still too long on me. See how much they're bunching up? Not cute. Also, sorry about this terrible lighting.
The final verdict: Too long. Too much bunching. I am exhausted.
Would I buy them? Nope. I don't want to spend money on short-length jeans only to still have to hem them. If I'm going to do that, I might as well check out all of the other options regular-length offers.
Option #10: Abercrombie & Fitch Jean Legging, Size 6s, $78
I haven't shopped at Abercrombie & Fitch since college, and when I walked in, I choked on so much perfume that I almost abandoned my mission. But I stuck through it, and I was pleasantly surprised to find that Abercrombie offers short length jeans in certain styles. Then I tried them on, and I was bummed. As you can see, they're just a little too long. They would need to be either cuffed or hemmed.
The final verdict: These weren't horrible. I could easily cuff them up and wear them if I needed to.
Would I buy them? No. I don't like buying jeans that HAVE to be cuffed in order to be worn.
Option #11: Anne Taylor Loft Curvy Skinny Jeans, Size 26 Petite, $69.50
Anne Taylor Loft is one of the only stores I know that offers an entire section for petite people, so I automatically love it and appreciate it. I wasn't surprised to try on a pair of jeans to find that the length was perfect. Good job, Ann Taylor Loft!
The final verdict: These were a perfect length, and I love that they have the option of Curvy or Modern. They were very comfortable and felt great. My only dislike was that they weren't skinny enough on my legs.
Would I buy them? Not these, but I would go for a pair of the Petite jeans that are skinnier than these (they had them, but the mall was closing and I didn't have time to try them on). They weren't very expensive, felt great, and didn't have to be hemmed. Win!
Option #12: American Eagle Hi-Rise Jegging, Size 6s, $49.95
My last stop was American Eagle Outfitters. I already knew American Eagle offers short sizes, because I get most of my jeans there, because they're really cheap. Like most stores, American Eagle doesn't offer short sizes in every style, which kind of stinks sometimes. I chose these hi-rise jegging jeans because I love stretchy jeans. As you can see, the length was perfect!
The final verdict: I loved these. They were comfortable, stretchy, and a great color - plus, they had a great length.
Would I buy them? Yes, and I did. I love them, but I will say this: they are SO stretchy that it felt like they actually got a little longer after wearing them for an entire day. So, that was kind of a bummer.
So, what did I learn from this shopping excursion? Nothing I didn't already know. It's hard to find petite or short sizes, and even when you find them, you only have a small chance of them fitting correctly (if you're my height, at least). I learned that the expensive designer brands were actually the worst, when it came to length, while the cheaper brands that aren't as flashy fit a lot better.
Was the trip disappointing? Yeah, definitely. I hope that one day, clothing brands can realize that all women are not made the same. We are all different sizes, shapes, and heights. By the end of my shopping trip, I was exhausted, and I had to remind myself that there's nothing wrong with being short... and I shouldn't have to give myself a confidence boost after a shopping trip. No one should. Do better, denim companies! Please. I promise you will get my money if you do.
Images: Jessica Booth