I Visited The ODLR Exhibit (It Was Flawless, Obvs)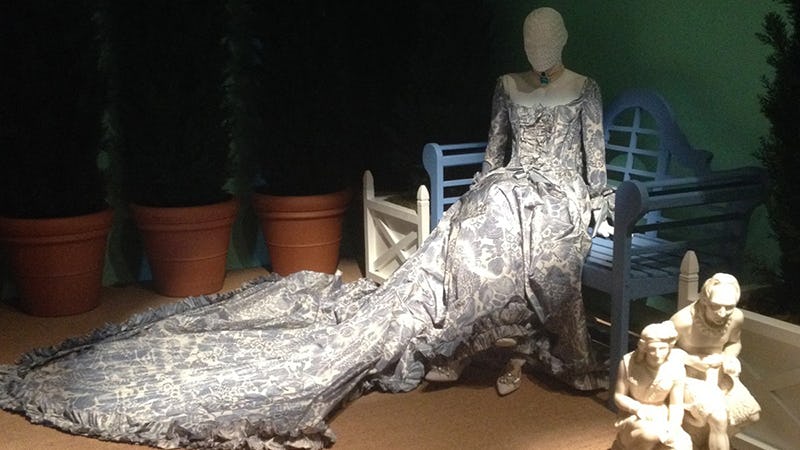 As soon as I heard the news that André Leon Talley was going to be curating an exhibition honoring his great friend and even greater designer, Oscar de la Renta, I knew it was sure to be a bittersweet affair. But, at the same time, a room filled with Oscar de la Renta's gowns sounded like a dream come true. And it absolutely was. "Oscar de la Renta: His Legendary World of Style" didn't occupy just a room, but three rooms. Three rooms full of amazingness.
The exhibition shared the same gallery space as Talley's last exhibit for SCAD, "Little Black Dress." But the feel for this one was different. Instead of honoring a fashion staple that's withstood the test of time, Talley was honoring a designer who redefined elegance for the many women whose closets were filled with his designs and for the rest of us who coveted them.
Upon entering the exhibit, I was overwhelmed — in the best way possible. I mean, can you imagine entering a gallery space featuring 70 of Oscar de la Renta's designs? Let me tell you, it's like dying and going to heaven. In style.
In an interview with Vogue , Talley explained that this collection of dresses wasn't meant to highlight the history of de la Renta's career, but were instead, meant to represent moments in de la Renta's design career that stood out to him. "Everything has been selected from my own memory, my moments," he said. And knowing that made the exhibition all the more touching.
Even more heartwarming was the outpouring of support Talley received from the women, ranging from Hillary Clinton to Taylor Swift, lucky enough to own some of de la Renta's most iconic dresses. How lucky Talley is to have gotten to sift through these women's closets — quite literally, as he tells Vogue, "I was literally inside their closets." Oh, how I envy him!
But, even just standing next to these gowns (and dying to forego museum etiquette and touch them) made me feel closer to the women who wore them and the fashion powerhouse who designed them. And, for now, that'll just have to do.
It's nearly impossible to pick favorites out of this display of dresses, but I've done my best to pick my very favorite looks from the show. I'm guessing you'll love them just as much as I do!
Taylor Swift's 2014 Met Gala Dress:
Who can forget the statement that Swift made in this dress? Looking pretty in pink and proudly sporting a large bow, true to de la Renta's design aesthetic, she look like the epitome of elegance and grace. And I'm pretty sure that in that moment every girl wanted to be her.
Beyoncé's March 2013 Vogue Dress:
Worn for a spread in Vogue , this is obviously a favorite of mine because Queen B wore it, but also because of its intricacies. All of those ruffles, and that ruching — I mean. Breathtaking. Plus, it's the closest I've ever been to Beyoncé, and I'll treasure the moment of standing next to it, well, forever!
Sarah Jessica Parker's Lovely Perfume Dress:
Worn for the Lovely Perfume Campaign in 2005, this pink satin cocktail dress has a simple silhouette and is truly, for lack of a better word, lovely. It's classic, and quite fitting for the Sex and the City star, if I do say so myself.
Sarah Jessica Parker's 2014 Met Gala Dress:
Who could forget this dress? I couldn't take my eyes off of SJP at the Met Gala when she sported this black and white gown. It was such an iconic moment for both the actress and the designer, with the enormous and gorgeous train baring his signature. It left quite the impression on the red carpet, and if I had to pick one favorite design of Oscar de la Renta's, this would be it.
Eliza Bolen's 1998 Wedding Dress:
One of the sweetest moments when touring the exhibit is seeing the wedding dress de la Renta designed for his stepdaughter. The lace detail is incredible and the best part is the lace-trimmed veil that drapes far behind the dress. I'm sure it looked absolutely beautiful coming down the aisle.
Kirsten Dunst's September 2006 Vogue Dress:
Worn in a Vogue spread around the time the actress was playing Marie Antoinette, this gown symbolizes not only everything the French Renaissance was about, but also everything de la Renta was about. It's bold, dramatic, elegant, tailored to perfection, and it has bows and ruffles. What more could a girl like Marie Antoinette (or any girl for that matter!) ask for?
So there's a glimpse into "Oscar de la Renta: His Legendary World of Style" And there's plenty more where that came from. The exhibition will be on display until May 3, and if you get the chance to see the exhibit — do it. It's definitely worth the trip to Savannah.
Images: Getty Images; Augusta Statz; Courtesy of SCAD