Ariana Grande Takes Her Video BF On An Insane Date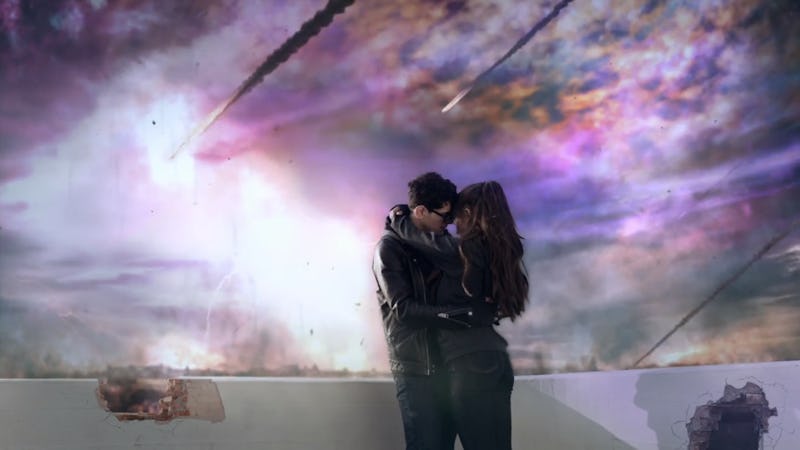 If there's one thing that I'm starting to learn from Ariana Grande's music videos for the songs off her second studio album, My Everything, it's that she is going through one heck of a sci-fi phase. We got our first glimpse of this in her boob rocket launching music video for "Break Free," in which Grande played some kind of Xena alien warrior who fights her way to partying with other aliens on a spaceship. Now, we're getting a more subtle dystopian world from Grande in her music video for "One Last Time," which, despite being a love song about cheating and regret, is paired with a music video about the world ending in about four minutes thanks to some comet that Grande is going to get herself and her boyfriend killed in order to get a good look at.
The video takes place in the form of found footage, featuring Grande and her on-screen boyfriend trapped in traffic as people try and fail desperately to get as far away from an impending comet as they can. When Grande realizes that there is no escape — and after several attempts on her part to get her boyfriend to stop filming — she climbs out of the car and starts shoving past crowds of civilians and police officers, through the streets and through people's homes, fighting off emergency personnel and conspiracy theorists, to reach a rooftop where they can watch the beauty of the comet and kiss beneath it for the scant few seconds they have left before death. It's weirdly romantic, when you think about it.
Personally, when listening to My Everything, I didn't envision it as the sci-fi wonderland that Grande's music videos are turning the tone of the album into, but it's not as though it doesn't work. The music video is nothing if not creative and it certainly adds something a little extra to one of the slower and more somber songs on the album. Check it out below.
Image: YouTube