These $100,000 Platinum Stilettos Are "Eternal"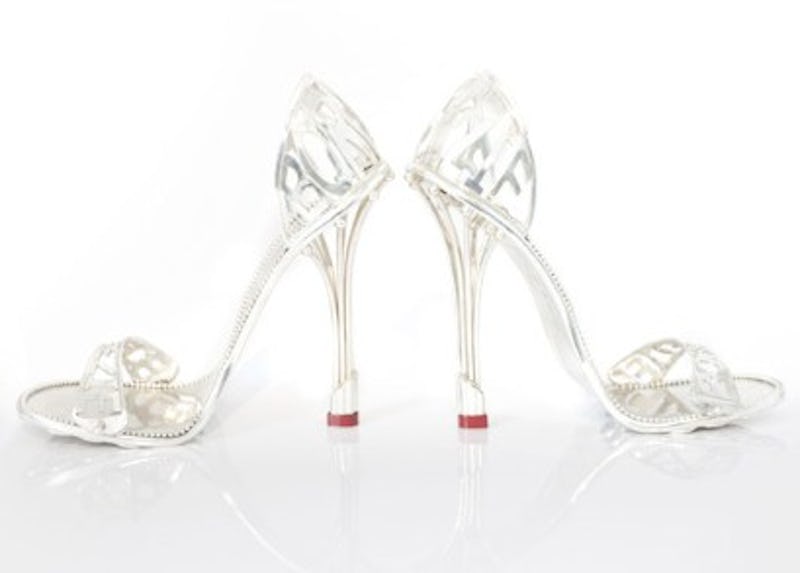 It's hard for me to imagine ever spending $100,000 on a single pair of shoes, but I can. I would gladly throw down some serious cash for tap shoes owned by Ginger Rogers, and I'd give up my first born for Elaine Benes's Botticellis. I very much doubt, though, that I would spend such an amount on a pair of platinum stilettos.
Yet for all the aspiring James Bond villainesses out there, these deadly dagger-stacked heels are perfect, and aptly named after bad-bitch Cleopatra, they can be yours for just £70,000 (or $112,567).
The shoe's creator, Christopher Shellis (who also designed the impressively ugly Diamond Stiletto), claims that
"due to an ingenious and patented design feature, the heel of and the sole of the sandal can be quickly and easily replaced by the owner themselves within minutes. This feature gives the sandal an ability to last forever, hence its eternal forever guarantee."
This means once you've thwarted your enemy with a kick of death, you can conveniently switch out the blood-soaked pieces, and go straight to the cocktail lounge to play poker with billionaires.
And if platinum's not your thing, don't worry: These weapons also come in 18 carat white or yellow gold.
Photos: borgezie.com