Easy Halloween Makeup for 4 Unsung Disney Villainesses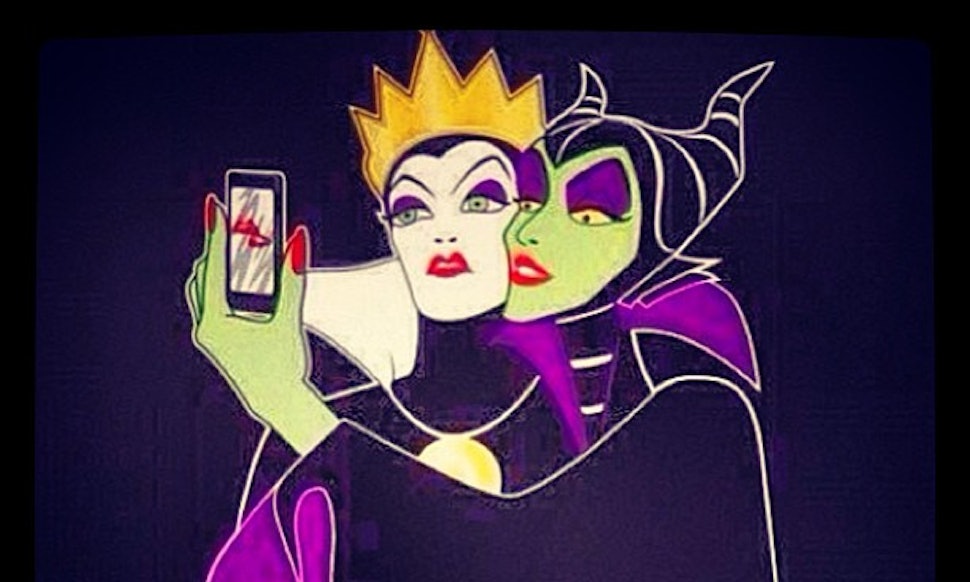 e.l.f. and Disney have teamed up to release a line of makeup (sold exclusively at Ursula's favorite one-stop-shop destination, Walgreens), designed to transform your poor, unfortunate face into the visage of Cruella de Vil, Ursula, Malificent, or the Evil Queen from Snow White. It's a clever marketing move to pull just before Halloween, when wickedness is finally rewarded, but what about the other bad ladies of Disney? They may not have Malificent's red nails, or the Evil Queen's bone structure, or Cruella's fantastic coat collection — but what if we want to dress up as them?
Image: @dolly76 via Instagram
Lady Tremaine
Why Cinderella's evil stepmother doesn't make more best-dressed lists is beyond me. Her style may lean a little toward the conservative, but the woman knew the power of a good eyeshadow, matching baubles, and a fantastic collection of creepy keys.
Emerald earrings, $43, EtsyUrban Decay Eyeshadow in hyacinth shimmer, $19, Sephora'Emerald' ring, $44, EtsyVintage emerald brooch, $18, Etsy
Image: @juanthisway via Instagram
Queen of Hearts
Tired of the whole sexy-cat-sexy-policewoman-sexy-tree costume options forced upon women every Halloween? The Queen of Hearts doesn't care about being sexy, either; she only cares about beheading people. Preferably Alice. NOW!
Tiny crown, $28, Etsy Red eye glitter , $15, SephoraHeart eyelashes, $35, EtsySuper-strong hair gel, $28, Sephora
Image: @once_upon_a_disney via Instagram
Yzma
Yzma (voiced by Eartha Kitt in The Emperor's New Groove) has always been my favorite Disney villainess. She's shrill, she's hilarious, she's power hungry, and she refuses to wear a bra even though she's approximately 200 years old. Oh, and you won't catch her dead without her mascara. Those lashes! What's her secret?
Purple eyeshadow palette, $24, SephoraAztec earrings and necklace, $25, EtsyLlama potion, of course, $15, Etsy20 pairs of false eyelashes, $1.61, Etsy (Yes, this is the creepiest purchase you'll make all day, but so necessary to be Yzma — you'll probably want to cut and glue to get her length.)
Image: @jeshreelsales via Instagram
Mother Gothel
She's only been around for three years, but Tangled's Mother Gothel has already established herself as one of the evilest, sexiest villains around — when she can keep her eternal youth with the help of Rapunzel's hair, that is. She's got a killer figure and knows how to show it off. And like any good Disney villain worth her weight in evil, she's all about the strong brow.
Waterproof brow mousse , $28, Sephora Pen eye liner , $24, SephoraVintage red and gold belt, $28, Etsy12 feet of Rapunzel's hair, for instant face lifts, $10, Etsy
Image: @laurenmcgrew97 via Instagram