BET's 'The Book Of Negroes' Has A Historical Basis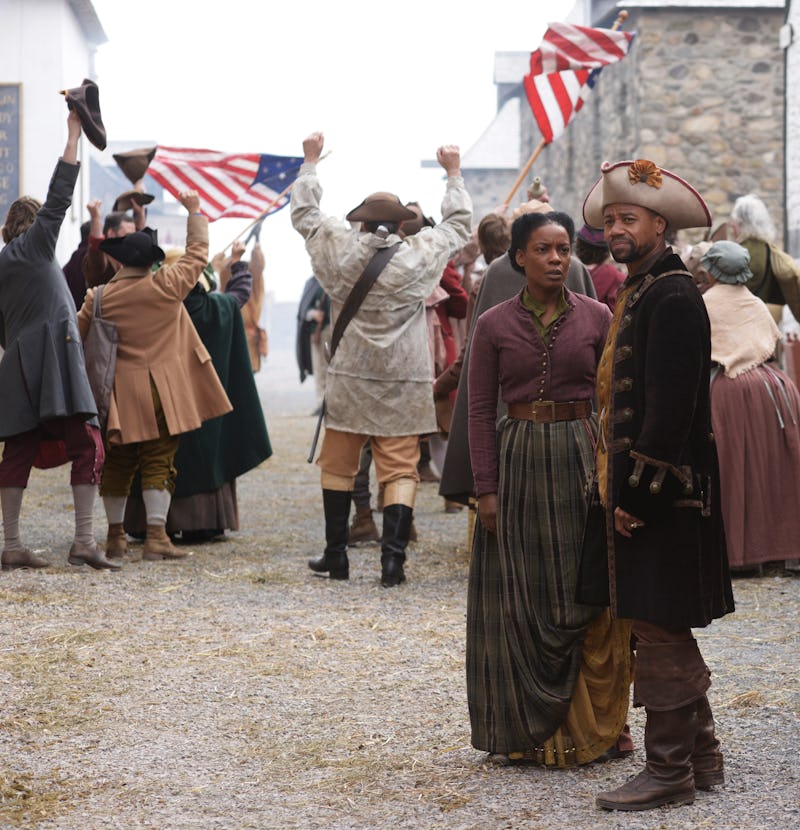 The next time someone gets all uppity about all of the wonders of Excel spreadsheets, remind them of the simple power of a paper document. It may not seem as important now, when practically everything is documented with digital permanence, but around the Revolutionary War, the power to record carried great significance. While BET's new miniseries, The Book of Negroes isn't based on a true story, it is derived from one such great document that is very much real. The Book of Negroes was a ledger of over 3,000 names of African-Americans who were fleeing America. It marks the first time in history that thousands of black people were formally recorded by a historical body, in this case, the British Navy.
BET's new series tells the story of the people whose names were recorded in that momentous document. Though the tale the miniseries follows — the journey of Aminata Diallo, an 11-year-old West African girl who was sold into American slavery in 1750 and eventually charged with recording the titular historical document — isn't true itself, its foundation is firmly rooted in very real history. The miniseries is adapted from the 2007 novel of the same name written by Lawrence Hill. 25 years ago, when Hill, who is Canadian, happened upon a bit of history that told how many black Americans were admitted into Nova Scotia after serving with the British in the Revolutionary War, he knew it was a story that needed to be told. Here's what you need to know about that story, which is now being adapted for television.
The Book of Negroes
The Book of Negroes isn't just a 150-page list of slaves fleeing America: It specifically documents the exodus of over 3,000 African-Americans from New York City to Nova Scotia, by way of the British Navy. As Hill, director Clement Virgo, and producer Damon D'Oliveira explain in the video above, during the Revolutionary War, the British promised freedom to any slaves who fought alongside them. Upon their defeat, they kept their word, and evacuated by ship with over 3,000 former slaves in tow, 98 percent of whom were eventually delivered to freedom in Canada. The Book of Negroes recorded the freed slaves' names, ages, and detailed physical descriptions.
The Novel
Hill told Quill and Quire that he came upon the history of the Book of Negroes after borrowing The Black Loyalists from his parents and discovering the background of black Americans settling in Nova Scotia as a result of serving with the British during the Revolutionary War. Hill read that many of these freed people still experienced great racism in Nova Scotia and left Canada to build new lives in Sierra Leone. Hill found it a fascinating story: "What kind of person – what kind of woman – might have lived in such a way as to be born in Africa, shipped into slavery in the United States, made it up to Canada, and then chose voluntarily to go back to Africa?" That idea is what led him to the character of Aminata, who uses her skills in writing and the Book of Negroes to parlay her way to freedom. Hill's novel was first published in Canada with the title The Book of Negroes, but was released as Someone Knows My Name in the United States.
The Miniseries
Likewise, the miniseries adapted from the novel was first released on Canada's CBC in early January, and premieres its first installment on U.S. airwaves on BET on Feb. 16. A notable difference between The Book of Negroes and many slave narratives adapted for the screen is that it follows a woman through her journey to freedom, Aminata, played by Aunjanue Ellis. Lyriq Bent, Louis Gossett Jr, and Cuba Gooding Jr. star alongside Ellis in The Book of Negroes' six installments.
Images: BET (2)