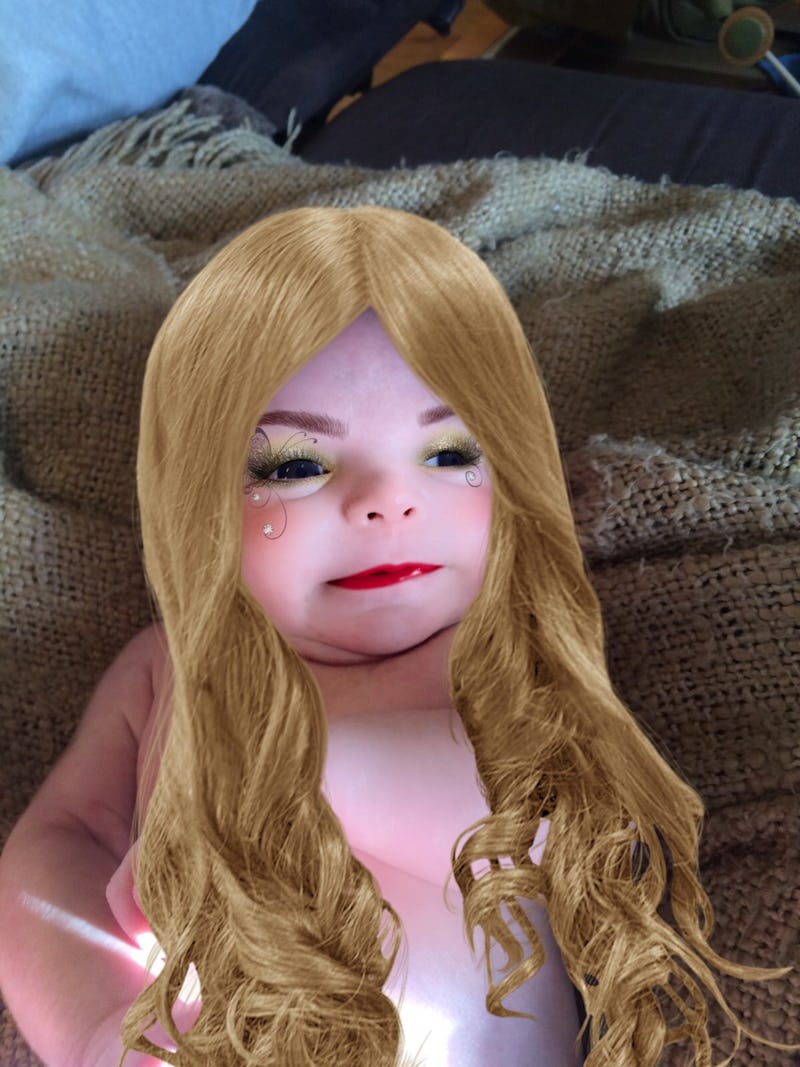 There's quite literally an app for everything these days. Want to keep track of how much water you're drinking? Done. Want an app that tells you what book to read next or how many steps you've walked today? Done and done. Want to find someone to date? Done and done and done again. Want to use an app to put makeup on your baby? Yup, there's something for that too. OK, fine, YouCam Makeup, the app one mom used on her adorable infant, could actually be helpful if used as intended. If you've never tried out an intense smokey eye, well, now's your chance to see what it would look like without any of the effort. Even if it doesn't give you a realistic idea of what makeup would look like on you, it's still fun, right? Smack those same effects on an adorable little baby and the results are hilarious.
But before we get to that, I think you should know just how powerful this app really is. I tried it out for myself (embarrassing results to follow) and the truth is that it's not just makeup. You can change your face shape, your nose definition, your skin tone, your eyebrow shape, your hairstyle... everything. You can try out whole looks, or you can just play around with the different features. I tried out the app on some hiking selfies I had on my phone (yes, I took selfies while hiking, what of it?) because I was wearing minimal makeup, and the results were pretty horrifyingly great.
Look #1: Before
Look #1: After
For my first look I wanted to start out with a natural, yet enhanced version of my normal self. You know, just emphasize my best features, really... and add a mullet of some kind, obviously. I call this one "An Adult Honey Boo Boo Goes Camping," or "Child Stars All Grown Up: Backwoods Edition." Either works, really.
Look #2: Before
Look #2: After
For this one, I wanted to do something a little bolder. So my face shape, nose shape, blemishes, skin tone, eyebrows, eye lashes, eye shadow, hair, and lipstick are all changed here. Could you tell? Am I a very photogenic hiker? Am I a prostitute who got lost in the woods and decided to make the best of it? Am I a real-life version of a SIMS character? Who knows? I like to keep the mystery alive.
But enough of me. Let's move on to much cuter things: babies with fake makeup on. Thank you, Internet. Scroll through all of the looks on Imgur to see the various combinations of makeup on this little guy that are truly, truly scary. I mean, scary, yet still really funny—like most great things that are trending online, right?
And if you're wondering if I'm bitter that a 7-week-old baby can pull off more makeup looks than I can, the answer is yes. But I'm the one with the ability to sit up on my own and walk, so, who's really winning here, right?
Images: Olivia Muenter (4), Imgur