Here's How You Can Ride Like The POTUS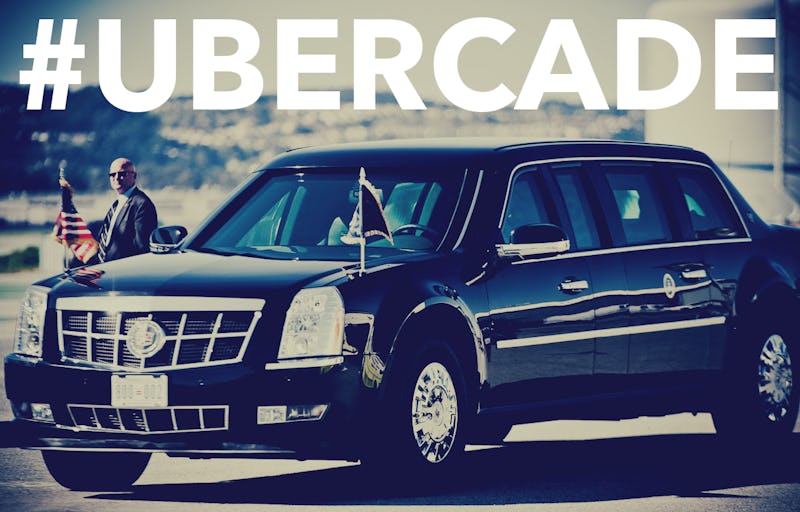 Have you always had political aspirations but couldn't get around that whole "majoring in political science" nuisance? Well, now you can feel like the president of the United States without ever opening a poli-sci textbook — all you need is an Uber membership. On Monday, Uber is offering its Ubercade motorcade promo for the third Presidents' Day in a row. Uber riders in D.C. can request to ride in a Cadillac STS escorted by two Chevy Suburbans, which will be carrying your "Secret Service agents," aka extra Uber drivers getting paid just to drive alongside a fake president for a day. For the politics-averse, this might be the closest you'll ever come to being the leader of the free world.
Between 10 a.m. and 3 p.m. on Monday, Presidents' Day, Uber users can open their app and request the Ubercade for the same rates as uberX. The promo has a four-passenger limit, which means you don't have to ride alone. You can pretend like you're riding with your first lady (or man), your VP (who would still be Joe Biden in your fantasy), and your White House Chief of Staff. Winners are also eligible to win presidential prize packs from Mount Vernon and City Segway Tours. However, going from riding in a motorcade to a Segway might be the quickest way of bursting someone's presidential bubble, so I'm not sure that was such a good pairing.
Just like with any other Uber promotion, the demand will be high, so only a lucky few will get to partake in the glory that is a motorcade.
For those who aren't familiar with the presidential motorcade, it is a procession of vehicles that carry the president, his family members, and other White House officials in order to provide them security while traveling. An actual presidential motorcade can consist of 20 to 30 vehicles, including armored vehicles for the president and other VIP travelers and security cars driven by professional drivers carrying Secret Service. The motorcade is led by police vehicles who clear traffic for the motorcade and ends with a communications van, an ambulance, and more police cars. So, in other words, it's kind of a big deal.
In comparison, the Ubercade's three vehicles is kind of like the kids' table version of the adult motorcade, or like a mini sample kit designed to entice you to want something you can't buy: the U.S. presidency. But regardless, if you're already willing to shell out for uberX, then you might as well try your luck at the Ubercade. And according to Uber's blog, the Ubercade looks like it could actually be way more badass than the real thing.
Images: Uber