No, Fox, Obama Is Not A Rape Suspect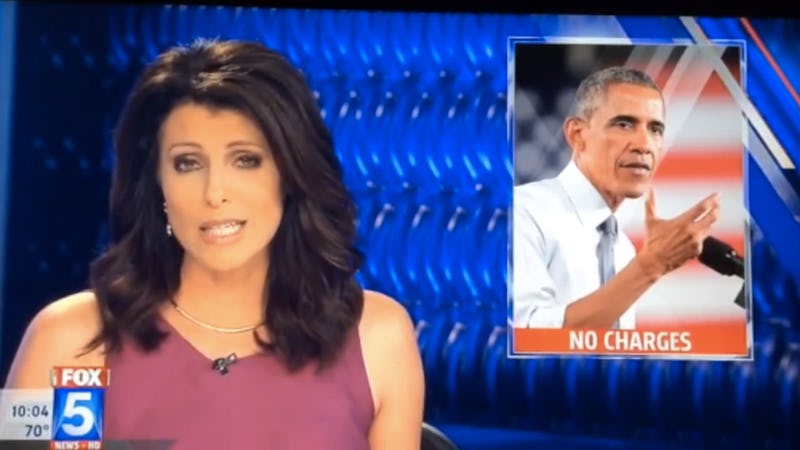 President Obama has been accused of many, many things by Fox News anchors during his presidency, but this latest faux-pas by a Fox affiliate may be the worst baseless accusation yet. During a news broadcast Friday night, Fox 5 San Diego identified Obama as a rape suspect. Never mind that the actual rape suspect looked nothing like the president — on Friday night, Obama was the culprit.
In the video, courtesy of the Times of San Diego, Fox 5 anchor Kathleen Bade reports on a sexual assault case that occurred at San Diego State University. Bade said the only suspect in the case, Francisco Sousa, won't be charged by the district attorney's office.
But instead of airing a photo of Sousa in the over-the-shoulder graphic, the news station broadcast a photo of Obama speaking at what looks like a podium. The graphic is superimposed with the words: "No Charges."
Bade continues her segment, seemingly unaware that Fox 5 has just identified the president of the United States as a suspect in a sexual assault case. "The only suspect in a sex assault at SDSU will not be charged," Bade reports. Again, that suspect is not Obama.
Here's a clip of the embarrassing flub.
After the station was alerted by its viewers of the mistake, anchor Misha DiBono gave a brief on-air apology on Sunday:
We have an apology now. Friday night, at 10 o'clock, we inadvertently used a photo of President Obama while reporting on a story about charges being dropped in a local case. We regret the error.
Although the apology sounds a bit vague, Fox 5 assignment editor Mike Willie assured the Times of San Diego that using a photo of the president was absolutely not deliberate. "There was an accident when they had an over-the-shoulder [graphic]. It wasn't on purpose," Willie told the news source.
According to The Wrap, Fox 5 graphic designer Thomas Condry also addressed the mess-up in the Times of San Diego comments section. "Please refrain from judging this station," Condry wrote in the comments. "Everyone here works very hard, and this was my mistake alone."
So on this Presidents Day, let's remember that Obama is not — nor has he ever been — a sexual assault suspect in San Diego. Instead, maybe we should tweet about one of the president's many anti-sexual assault campaigns, including It's On Us, Not One More and 1 is 2 Many.
Image: screenshot/Fox 5 San Diego