13 of Instagram's Most Stylish Winter Outfit Ideas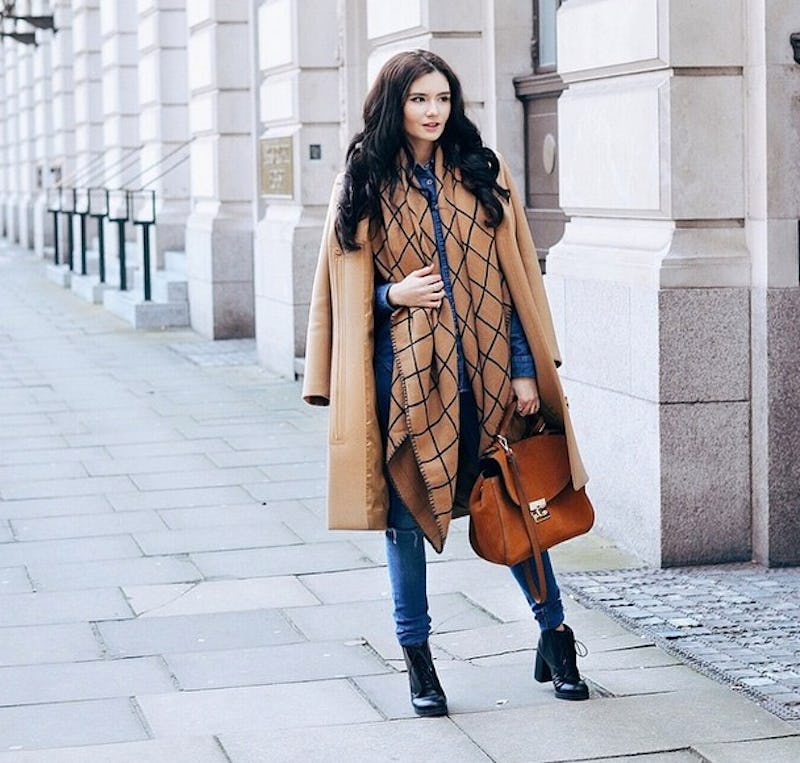 The good news? Less than a month till the first day of spring. The bad news? There's still almost a month until spring. I've just about had it with these bitter temperatures, and so has my wardrobe. If I'm stuck in a deep freeze for another month, though, I might as well make the most of it by upping my cold-weather clothing game (it is fashion month, after all.) And where do I look for winter outfit inspiration? The most stylish ladies on Instagram, of course.
I'm in desperate need of some new ideas, because I've been incredibly lazy about my fashion choices lately, trekking everywhere in my Ugg boots, polar-vortex worthy North Face, and two pairs of pants (only because I can't figure out how to wear three pairs. Trust me, I would if I could.) It's a victory in itself to get dressed at all when the weather is so cold, let alone get dressed like, y'know, a real person. So these stylish fashion bloggers are giving me some much-needed mojo to actually tap into my personal style when I all I want to wear is a pair of footie pajamas.
Here are 13 ideas I'll be keeping in mind as I get dressed till the weather warms up. (Bonus: I can still wear my ski leggings underneath most of these. Don't judge.)
Denim Shirt + Jeans + Oversized Scarf + Lace-Up Booties
Faux Fur Jacket + Soft Sweater + Skinny Jeans + Sunglasses
Cozy Cape + Long Sleeve Tee + Skinny Belt + Over-The-Knee Boots
Tuxedo Blazer + Button-Up + Fun Jeans + Coat Draped Over Shoulders
Big Turtleneck + Boyfriend Jeans + Oversized Clutch + Normcore Sneakers
Belted Jacket + Leather Pants + Wide-Brimmed Hat + Checked Scarf
Sweater + Knit Scarf + Thick Tights + High-Waisted Shorts
Fur Collar + Cargo Green Parka + Chic Crossbody Bag + Adidas
Houndstooth Coat + Girly Skirt + Sweater + Collared Shirt
White Jeans + Pastel Sweater + Camel Coat + Heeled Booties
Denim Jacket + Sweater + Converse + Beanie Hat
Parka + Big Scarf + Black Jeans + Flat Booties
Silk Joggers + Pumps + Leather Jacket + Long Top