Yep, All This Snow Is Ruining Your Skin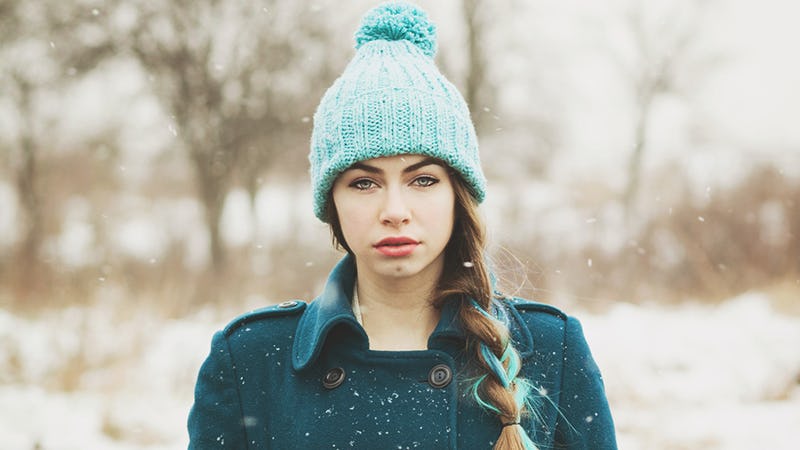 Your primary concern for surviving harsh winter conditions may be making it to May without frostbite, but the snow is bad for your skin just as much as your extremities when the temperatures plummet. In the midst of Juno's icy gusts, Linus's mounting snowdrifts, and Octavia's unforgiving arctic temperatures, your skin is a prime target for all manner of maladies. While you may be bundled in warm cashmere and wool head to toe, your face often goes uncovered — unless you take the audacious and intimidating ski mask route.
Your face takes the brunt of chilly winter gales, and while your skincare routine might be primed for crisp autumnal weather it needs to be bumped up a notch to properly protect against the harsh effects of winter. But what kind of damage does ice and snow exact on your skin? The harm is visible when you peer at your distressed epidermis in the mirror after running home from work, but the explanation behind your dry patches and rosy cheeks is more complex. Director of Education for professional skin care company Bioelements Teresa Stenzel took several minutes to chat with Bustle about the real reasons skin reacts to snow, and how you can prevent the damage by making several simple changes to your skincare routine.
Lucas Papaw Ointment, $8, Amazon
Though transepidermal water loss may sound like one of the biological processes you studied in plants for your high school science class, it is in fact one of the primary causes of scaly, dry skin during the winter. Transepidermal water loss, also referred to as TEWL, refers to the skin's deprivation of water due to arid winter conditions. "The drier the skin is genetically, or if you already have compromised skin due to a skin disorder, the more dramatic the symptoms will be," Stenzel states. For especially parched patches, smooth on a petroleum-based ointment like Lucas' Papaw Ointment to prevent further TEWL and calm skin.
Bioelements Calmitude Hydrating Solution, $19, Amazon
A major contributor to transepidermal water loss, icy winds are not only unpleasant to suffer through for their temperature. Stenzel states that arctic gales can aggravate already sensitive skin and whisk away moisture from the skin. Stenzel suggests combatting the effects of icy winds with a skin-soothing toner to alleviate any unwanted redness and nourish an irritated epidermis. "Really saturate the skin with a calming, redness-reducing toner like Bioelements Calmitude Hydrating Solution or Equalizer," she recommends. "Toning skin post-cleanse restores its natural pH, leaving it ready to absorb essential ingredients from the products that follow."
Bioelements Sun Diffusing Protector, $32, Amazon
The sun doesn't necessarily stop shining simply because snow is falling. Stenzel stresses the importance of remembering sun protection even when the temperature hits freezing, as UV damage can contribute to stressed skin during the winter. "Never skip the sunscreen — even when it's cold and gray," she advises. Stenzel recommends utilizing a moisturizer with sunscreen included like Bioelements Sun Diffusing Protector to stop sun damage in its tracks without investing in several separate treatments.
Bioelements Sensitive Skin Cleanser, $24, Amazon
The cold temperatures outside contribute to a number of unsightly skin conditions, Stenzel states, from distended capillaries to disrupted skin texture which can result in wrinkles and roughness. However, indoor temperatures can be just as lethal to the epidermis. "Very cold weather and icy wind gusts combined with lack of humidity, forced heat, prolonged hot baths and going outside for any length of time can accumulate the trans epidermal water loss," Stenzel explains. Skin doesn't respond well to extreme temperatures, especially when exposed to both acute heat and cold in a short period of time. "Always cleanse skin with tepid water, not hot," Stenzel recommends, as exposing already irritated skin to hot water could aggravate the effects of the cold. Further, "Use a cleanser designed for sensitive skin or a cleanser that can be used on all skin types to help keep skin clean and fresh, but not tight and stripped," Stenzel advises.
SK-II Facial Treatment Essence, $99, Amazon
You may think of hot, humid summer days as a curse, but a base level of humidity is a significant factor in maintaining hydrated skin. Stenzel states that the drop in humidity during winter as well as the tendency of buildings to overheat public spaces can strip skin of moisture. Try purchasing a humidifier for personal use and taking extra care to hydrate your skin with ingredients including ceramides and emollients that keep skin from losing its moisture on especially parched days. In order to restore your skin's optimal level of hydration, first prep with a facial treatment essence like SK-II Facial Treatment Essence, which prepares the skin to better absorb hydrating and healing serums or moisturizers.
Images: BigLike Images/Fotolia; Courtesy Brand