Meet The New, Feather-Light Chromebook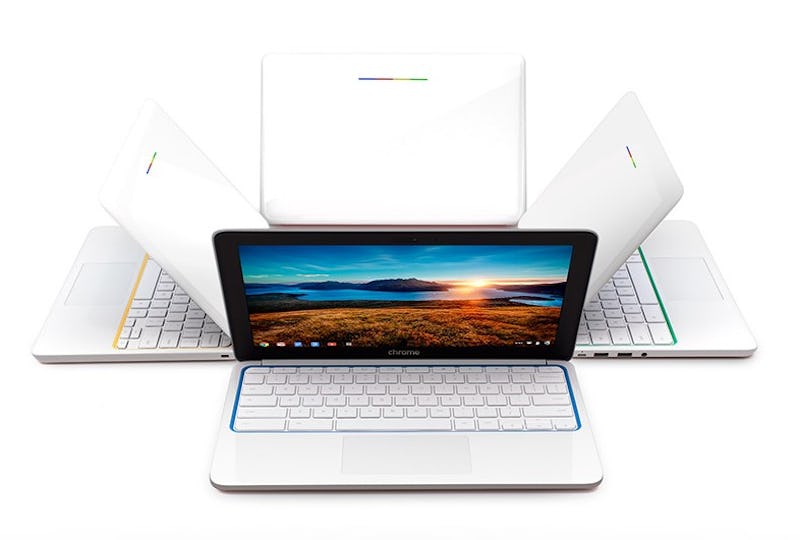 If you squint and turn your head sideways, the new HP Chromebook 11 almost looks like the now-discontinued MacBook. Available in slate black and glossy white, it's sleekly built with a shiny finish, but its lookalike status isn't what's attracting attention. At just 2.3 pounds (1.04 kilograms), the Chromebook 11 is one of the lightest notebooks available, and it's the first to use a micro USB charger. Like its previous incarnations, it's heavily reliant on cloud computing, and gives you all of Google's typical offerings — Gchat, Gmail, Chrome, Google Docs, Google Play — from built-in desktop icons. And, true to form, it's seamless to use, if you're already a Google/Android/Chrome user. If not, you'll quickly run into incompatibilities between devices.
With the latest edition of the Chromebook, HP and Google move further toward cloud computing: in other words, your digital device being a low-memory, portable entrance into the "cloud," where all your data and content is actually stored. The Chromebook 11 is as easy to carry around as a hardback novel: "When you're traveling, you don't need to throw an extra charger into your bag," Caesar Sengupta, a vice president of product management at Google, wrote in a blog entry. It uses the same adapter as an Android phone or tablet, which makes transitioning back and forth easy if you have an Android, but is a useless addition for the iPhone users of the world.
Still, the laptop, which goes on sale Tuesday, is just $279 — about a fifth of what your average MacBook goes for. Other updates in the Chromebook 11's design include a screw-less magnesium frame, a speaker behind the keyboard so your lap or sofa doesn't muffle the sound, and 176-degree viewing angles. The changes, though, are mostly cosmetic. Inside, it's still "the guts of a tablet or a smartphone," according to ABC.
Because the Chromebook is so reliant on Internet access, with this edition specifically built to send e-mails and files composed offline at a moment's notice, it includes 12 vouchers for in-flight Wi-Fi. More importantly, it gives you two years of free 100GB Google Drive storage right off the bat. Too bad the new design is likely to be overshadowed later this year by Chromebooks with the IH processor and all-day battery life, which some analysts are encouraging Google-lovers to wait for.