U.S. Skier Starts A Foundation To Empower Girls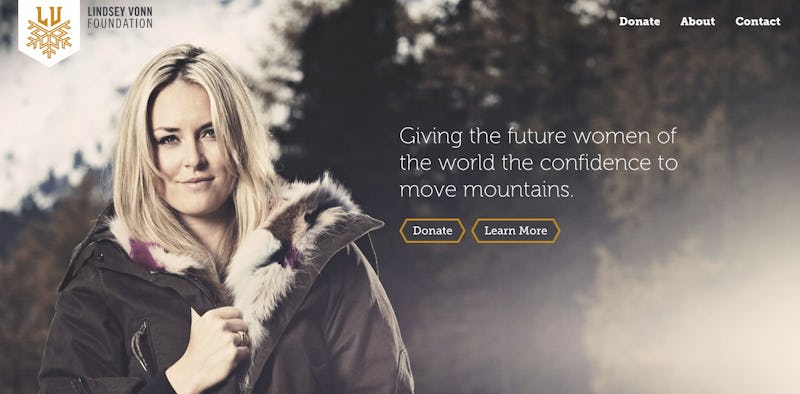 Lindsey Vonn is out to make a big impact — and this time, it's not out on the slopes. On Saturday night, the American skier launched the Lindsey Vonn Foundation. Her goal? To empower girls to grow through "opportunities, skills and experiences that build self-esteem and creative positive self-image," Vonn posted on her Facebook page.
Vonn's foundation plans to raise funds that will be put toward programs and experiences to create the comfortable, positive attitude necessary for girls to grow "as athletes, as learners, and as individuals," according the foundation's "About" page. As reflected in the foundation's mission statement, Vonn seems to believe that by empowering individuals, the entire community, in turn, can also be empowered. By empowering young girls, the foundation says, it aims to give "the future women of the world the confidence to move mountains."
The foundation's current partners include Vail Resorts, ZGirls, and Archival, and she has a powerful team behind the foundation with her, including her two sisters, Karin and Laura Kildow; her boyfriend, Tiger Woods; and multiple marketing and media professionals. But even with this crew, as the foundation gets started, donations and funds will be especially crucial, the website notes.
The launch of Vonn's foundation is yet another bright spot in her first year back on the slopes following a knee injury last year that took her out of the 2014 Winter Olympics. Although The New York Times describes Vonn's performances since returning to the slopes as "uneven," this month she won a bronze medal in the super-G, alpine skiing's super giant slalom race, which marked her sixth world championship medal and is more than any American has won previously. She has won three World Cup downhill races so far this season.
But the ambitious Minnesotan is just getting started on tackling her goals. With the Olympics still three years away, Vonn has her eye on snagging a fifth World Cup overall title, which she last won the title three years ago when she was 30. According to NBC Sports, a woman over the age of 30 hasn't won the World Cup overall in 20 years.
An injury might have taken Vonn off of the slopes for a while, but she isn't going to let it stand in her way. With an attitude like hers, Vonn's decision to create a foundation to empower girls makes perfect sense. She has overcome plenty of obstacles herself, and she's bound to set an example for young girls trying to do the same. The Lindsey Vonn Foundation's mission is right — changing one girl really can change the world.
Images: Getty Images (1)