The Most Awkward 2015 Oscars Red Carpet Moments Prove Celebs Can Be Cringey, Too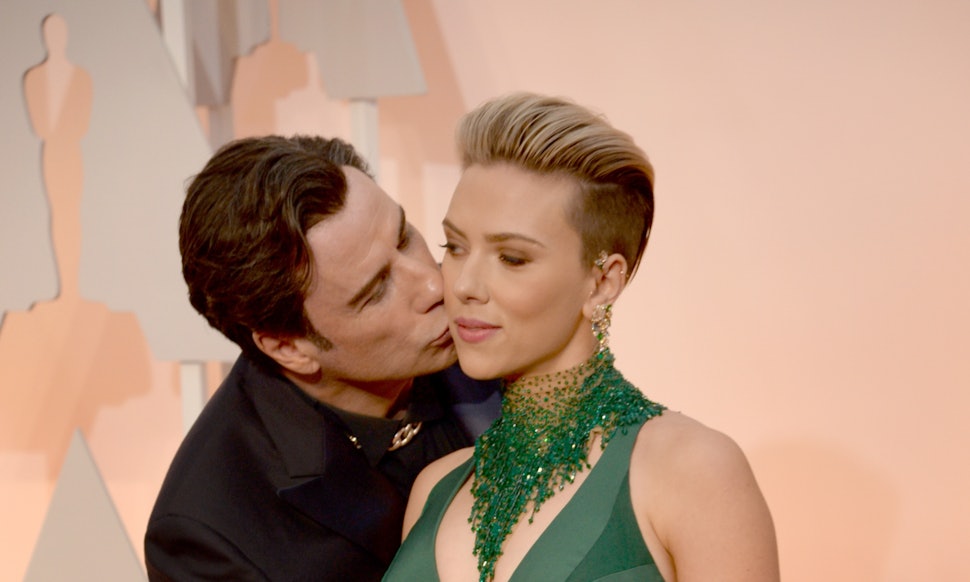 It may only be late afternoon, but the 2015 Oscars have officially begun. While the ceremony itself won't start until 8:30 PM EST, the red carpet pre-show is already underway, with hosts Ryan Seacrest, Giuliana Rancic, and more questioning stars about everything from the makers of their dresses to the contents of their pre-prepared speeches.
Like pre-shows of the past, the Oscars' red carpet is already full of chock-full of gorgeous dresses, spot-on sound-bites, and, of course, some hilariously uncomfortable moments. Whether it's a star's refusal to pose for the Mani Cam or a host's inability to ask a non-offensive question, the 2015 Oscars are proving to be one awkward, star-studded affair — and the night's only begun. Read on for the most cringeworthy moments from the show's red carpet so far.
Everything That Happened Before 7 PM
When a show is three hours long, and most major celebrities don't appear until about forty minutes beforehand, the appropriate thing to do is start the red carpet pre-show three hours earlier, right? WRONG, E!. Wrong, Yet that's exactly what the network did, and the result was as uncomfortable as you'd expect: the hosts struggled to come up with banter, the interviewees included 9-year-olds and celebrity chefs, and there was an entire conversation devoted to Ryan Seacrest's new beard. Next time, E!, follow ABC's lead and start the coverage a few hours later.
"This Necklace Right Here Is Worth More Than My Life" - Margot Robbie
Ryan Seacrest Asking Dakota Johnson About '50 Shades', Part 1
Ryan Seacrest thought 50 Shades of Grey star Dakota Johnson was talking to Ethan Hawke about the movie. She was not. Things got awkward.
Ryan Seacrest Asking Dakota Johnson About '50 Shades', Part 2
Then Seacrest asked her if she took home any prop from the movie's set. She had. It was a flogger. Things got more awkward.
Ryan Seacrest Asking Dakota Johnson About '50 Shades', Part 3
Then Giuliana Rancic decided to LOOK UP the meaning of the term and READ IT OUT LOUD. Things got so awkward I literally had to look away from my screen because of how uncomfortable I was for everyone involved.
Ryan Seacrest Stumbling Over the Word "Gif" While Talking to Eddie Redmayne
Oh, Ryan. It was not your night.
Naomi Watts Talking About Cheese
Look, I love carbs as much as the next girl, but they have no place on the Oscars' red carpet.
Every Time They Cut to Khloe Kardashian
Khloe Kardashian is on an E! show, but that does not explain why she was chosen to help the interviewers on the red carpet. "I'm hit or miss with that dress" is not a sentence, and "that's so wow" is barely even English.
Dakota Johnson and Melanie Griffith's '50 Shades' Talk
The only thing more uncomfortable than having your daughter star in an erotic drama is being asked — repeatedly — if you're going to watch her in it. No wait, it's when you're standing next to her. No, actually, it's when you say no.
Robin Roberts Saying "Hashtag"
Some things are better left on Twitter.
That Time There Was a Hole in the Roof
Because of course there was.
Robin Roberts Hugging Bradley Cooper Because "Angela on Twitter" Wanted Her To
Just admit you wanted to hug him, Robin. No one would've judged.
Adam Levine's Head-Butt With Ryan Seacrest
This Photo
The most awkward moment of the Oscar red carpet, or the most awkward moment of all time? Poor, poor ScarJo.